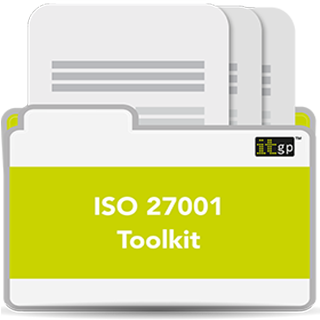 Details
SKU: 5484
Format: Cloud Annual Subscription
ISBN13: 9781787781740

Published: 01 Nov 2021
Availability: In Stock

ex vat
Annual subscription thereafter
£150.00
ex vat
Overview
How does our toolkit help you comply?
Discover where you sit on the compliance scale
Measure your current state of compliance by assessing your existing information security arrangements with the Gap Assessment tool and identify the steps needed to achieve compliance.
Understand who is responsible for each task
Use the Roles and Responsibilities matrix to understand where specific tasks, functions and responsibilities sit within your organisation.
Record your Annex A controls
Use the Statement of Applicability tool to list the Annex A controls and policies that you have or have not applied and record your reasoning.
Oversee the project and track progress
Streamline your project by assigning tasks to team members and track progress to report back to stakeholders using the Implementation Manager tool.
Prioritise your work areas
Use the gap assessment tool, implementation manager and other tools to easily and efficiently set your organisational priorities and create ISO 27001-compliant documentation. 
Guidance where you need it
We know ISO 27001 implementation can be daunting so we've done the hard work for you. Our templates include prompts and guidance notes for what you need to be entering to fill in the specifics for your company.
Download sample documents
Download contents list
---

Anytime access with DocumentKits
Access your templates anywhere, at any time through the online DocumentKits platform, ensuring your organisation can always access and edit the files, regardless of operating system.
Customise the toolkit with your company logo and automatically populate fields to speed up your documentation process.
Reduce duplication and effort by easily integrating your documentation with other toolkits in the DocumentKits platform. 
Tooltips and guidance notes provide definitions and expert instruction so you can easily complete the customisable free-text sections.
Easily extract files to PDF to save on shared servers, intranets or wherever you need them.
Collaborate with team members and share the workload with this Cloud-based platform, which includes access for up to ten users per year.
Unlimited support for account set-up and guidance using the DocumentKits platform. 
---

Why choose IT Governance Publishing
Our ISO 27001 Toolkit has been developed by industry experts and global leaders in ISO 27001, so you can be sure your documentation is accurate and fully compliant.
You can customise the toolkit with your company logo, which automates input of common fields and speeds up your documentation process.
Trust the experts and shop with confidence like the 12,000 organisations that are already using our toolkits.
The de facto standard for toolkits – we pioneered the toolkit for BS 7799 (the forerunner to ISO 27001) implementation. As far as we know, every client that has used one has achieved certification – we have the content you can trust.
We are the experts – all of our documentation toolkits are designed and written by subject matter experts, ensuring that our customers benefit from real-world best practice.
We listen – customer feedback is vital to product development, helping us lead the market and drive customer satisfaction. All DocumentKits toolkits are continually updated and modified.
---

Companies that have purchased our toolkits
Benefits
Why opt for our ISO 27001 toolkit?
Comply without breaking the bank
A fast and cost-effective route to compliance without the added expense of consultancy.
Guaranteed compliance
Directly aligned to the clauses and controls of ISO 27001, the toolkit ensures complete coverage of the Standard.
Audit trail
Record actions and measure improvements for certification and audits.
Ongoing compliance
The ISO 27001 Toolkit has been continually modified, updated and adapted over 20 years.
Ensure you're on the right track
Your free comprehensive information security manual comprises advice and guidance on how to complete specific areas.
Record progress
Keep track of task progress and outstanding actions in the downloadable toolkit dashboard. 
Professional guidance
Get professional guidance with our comprehensive toolkit so you can become your own expert, saving thousands of pounds and avoiding mistakes.
Quick and easy
Get the job done quicker and never start from scratch again with our ready-made, customisable tools and templates.
We are the experts
The ISO 27001 Toolkit is developed by global experts who led the first ISO 27001 certification project - work from tried and tested ISO 27001-compliant documentation.
World-leading toolkits
We have spent thousands of hours developing our toolkits over the past 20 years, so you don't need to waste your time reinventing the wheel.
What's included
Information Security Manual
ISMS Guidelines: getting started with your ISMS
ISMS Overview (PowerPoint)
ISO 27001: 2013 Gap Analysis Tool (Excel)
ISO 27002: 2013 Controls Gap Analysis Tool
ISO 27001 Implementation Manager (Excel)
ISO 27001: 2013 Documentation Dashboard (Excel)
ISO 27001 Requirements vs Documents & Controls vs Documents (Excel)
Context of the Organisation
Identification of Interested Parties Procedure
Legislation and Regulation
Scope Statement
Information Security Policy
Roles and Responsibilities Document Management Tool
Risk Management Procedure
Information Security Management System Plan
Information Security Objectives and Planning
Information Security Objectives Record
Risk Management Framework
Risk Assessment Procedure
Risk Assessment Tool
Statement of Applicability Work Instruction
Statement of Applicability Tool
Risk Treatment Plan
Contact with Authorities Work Instruction
Wireless Notebook Computer Security
Teleworker Security
Teleworker User Agreement
Schedule of Authorities and Key Suppliers
Teleworker Checklist
Schedule of Required HR Amendments
Personnel Screening Requirements
Employee Termination Work Instruction
Termination Checklist
Inventory and Ownership of Assets
Internet Acceptable Use Policy
Rules of Email Use
Email Box Control Work Instruction
Mail/Postal Services Work Instruction
Voicemail Work Instruction
Fax Machine Work Instruction
Photocopier Work Instruction
Information Security Classification Guidelines
Media and Information Handling Procedure
Inventory of Information Hardware Assets
Software Log
Information Assets Database
Schedule of Intangible Assets
Log of Information Assets for Removal
Access Control Policy
Access Control Rules & Rights
Individual User Agreement
User Access Management
Username Administration Work Instruction
Individual User Agreement - Wireless User Addendum
Individual User Agreement - Mobile Phone Addendum
Secure Logon, Session Time-Out and Sensitive System Isolation
Use of Privileged System Utilities
User Deletion Request
User Replacement Password Request
Cryptographic Key Management
Schedule of Required Cryptographic Controls
Physical Entry Controls and Secure Areas
Fire Door Monitoring Work Instruction
Fire Alarm Monitoring Work Instruction
Burglar Alarm Monitoring Work Instruction
Reception Area Monitoring Work Instruction
Public Access, Delivery and Loading Areas
Physical Perimeter Security Checklist
Equipment Security
Fire Suppression Equipment Monitoring Work Instruction
Air Conditioning Equipment Monitoring Work Instruction
Standard Configuration Details Work Instruction
Removal Offsite of Information Security Assets
Secure Disposal of Storage Media
Log of Information Assets for Disposal
Documented Procedures
Control of Operational Software
Change Control Procedure
System Planning and Acceptance
Rules for Operational Test and Development Environment Procedure
Policy Against Malware
Controls Against Malware
Anti-Virus Software Work Instruction
Backup Procedures
Information Security Monitoring Procedure
Control of Software Installation
Vulnerability Management
System Auditing Procedure
Change Request Work Instruction
Log of Change Requests
Schedule of Audit Log Requirements
Schedule of Monitoring Requirements
Schedule of Administrator and Operator Log Requirements
Network Controls and Services
Network Access Control Policy
Network Access Control Procedure
Telecommunications Procedure
Confidentiality Agreements
E-Commerce and Online Transactions
Secure Development Policy
Secure Development Procedure
Information Security Policy for Supplier Relationships
Managing Third Party Service Contracts
External Parties - Information Security Procedure
Reporting Information Security Weaknesses and Events
Responding to Information Security Reports
Collection of Evidence
Schedule of Information Security Event Report
Information Security Weaknesses and Events Checklist
Information Security Continuity Planning
Information Security Continuity Plan
Information Security Continuity Risk Assessment
Testing, Maintaining and Re-Assessing Information Security Continuity Plans
Intellectual Property Rights Policy Statement
Intellectual Property Rights Compliance Procedure
Control of Records
Retention of Records
Data Protection and Privacy Policy Statement
Organisational Privacy Legal Statement
Terms and Conditions of Website Use
Internal Independent Review Procedure
Compliance and Compliance Checking Procedure
Schedule of Legal and Contractual Requirements
Competence Procedure
Hiring and New Starter Procedure
Training and Development Procedure
Leavers Process
Awareness Procedure
Communications Procedure
Document Control
Information Security Manager Job Description
Head of Risk Job Description
Chief Information Security Officer Job Description
Competence Matrix
Job Description
Induction Checklist
Training Record
Operational Control Procedure
Monitoring, Measurement, Analysis, Evaluation Procedure
Internal Audit Procedure
Management Review Procedure
Monitoring and Measurement Register
Internal Audit Schedule
Internal Audit Report Lead Sheet
Management Review Record
Non-Conformity and Corrective Action Procedure
Continual Improvement Procedure
Corrective Action Report
Non-Conformance Report
Non-Conformance Report Log
Basic Checklist
Meeting Agenda
Meeting Agenda: Initial Board Meeting
Meeting Agenda: Second Board Meeting
Meeting Minutes
Meeting Minutes: Initial Board Meeting
Meeting Minutes: Second Board Meeting
Basic Procedure
Basic Schedule
Basic Service Level Agreement
Basic Work Instruction
Technical & FAQs
Technical information
This is an annual subscription product; however you can cancel at any time. (T&Cs apply)
All our documentation toolkits are electronically fulfilled and accessible via DocumentKits, our online platform.
Your subscription includes access for up to ten users.
The DocumentKits platform is compatible with all devices, operating systems and applications.
You will need to use the latest version of your chosen web browser (e.g. Chrome, Edge, Firefox or Internet Explorer).
---
FAQs
The toolkit files are accessible via DocumentKits, our online platform, within which you can view and customise the templates in line with your organisation's policies, processes and procedures. Tools and documentation dashboards, where provided, will be in downloadable Excel format, and guidance documents are provided as downloadable PDFs. The customised toolkit documents can be downloaded in PDF format.
Our documentation toolkits are suitable for organisations of any type or size and in any sector, and contain the necessary documentation templates and tools for your implementation project. While some document templates may not initially be relevant within the scope of your project, they may prove valuable over time as your business grows.
You will be purchasing a single subscription to the toolkit for use in one organisation only. If you wish to use the toolkit in multiple companies, then please contact us here to discuss your requirements.
No. The toolkit is accessible via DocumentKits, our online platform, which runs in a web browser.
All documentation toolkits are electronically fulfilled. Once you purchase the toolkit, you will be taken to a web page and asked to enter some basic information about your organisation to allow the toolkit to be configured within DocumentKits. You will also receive an email with your username and temporary password, with details on how to access the system.
The toolkits are not an out-of-the-box solution; depending on your implementation project, you will need to add details to the templates that match what your company does and what it should be doing. Compliance, management systems and certification projects are complex and require a lot more work than just documentation, so this should be considered when purchasing a toolkit.
Our documentation toolkits provide a framework for documenting your compliance with standards and regulations, with content and guidance written by experts. You will need to ensure the templates are edited to truly reflect the nature of your business and the environment within which it operates.
Our sister company, IT Governance Ltd, offers a wide range of packaged solutions to help you as much, or as little, as you need.
Yes – please do!
Our toolkits contain free-text areas where you are prompted to customise the information according to your organisation's own policies, procedures and records.
We provide unlimited support to help you set up your account, add contributors and customise the templates.
Our support service does not extend to consultancy and implementation advice. If you would further support you can contact us to discuss your requirements.
As documentation toolkits cannot be physically returned, we are unable to offer refunds.
For more information, please see our terms and conditions.
---
End-User DocumentKits Agreement
If you are thinking about purchasing a toolkit, please click here to review the end-user licence agreement for DocumentKits.
For more information, visit our DocumentKits FAQ page.
Reviews