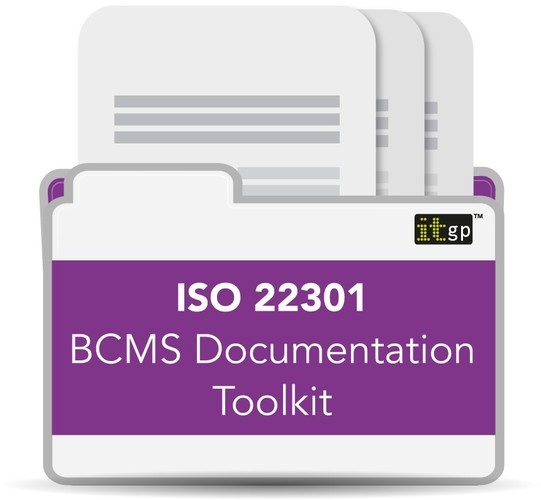 ISO 22301 BCMS Documentation Toolkit
Details
SKU: 4876
Format: Toolkit
ISBN13: 9781849289658
BIC: Financial crises & disasters, Natural disasters, BUSINESS & MANAGEMENT, COMPUTING: GENERAL, COMPUTING & INFORMATION TECHNOLOGY
BISAC: BUSINESS & ECONOMICS / General, NATURE / Natural Disasters, BUSINESS & ECONOMICS / Economic History, COMPUTERS / General
Published: 24 Nov 2017
Availability: Out Of Stock

Description
This toolkit has been updated to ISO/IEC 22301:2019. Please contact us for more information. 
The ISO 22301 BCMS Implementation Toolkit contains expert guidance and consultant-created content to help you implement an ISO 22301-compliant BCMS quickly and easily, and mitigate the effects of unplanned business disruptions.
It has been designed by experienced business continuity consultants to help organisations of all types and sizes to quickly and easily implement a BCMS that complies with the international standard, ISO 22301.
The toolkit contains templates, checklists and tools that business continuity managers can use to produce their own tailored versions of the policies, procedures and other documents necessary to implement an ISO 22301-compliant BCMS – as well as expert guidance and 12 months' support.
Styling, formatting and branding your templates can be managed centrally, allowing you to embed the documentation into your organisation quickly and easily.
This invaluable resource will allow you to implement a best-practice BCMS that can be fully integrated with your other management systems (e.g. those based on ISO 27001, ISO 9001 and ISO 14001), streamlining your approach to compliance and ensuring your business continuity plans align with your organisation's strategic objectives
All our documents:

Are fully compliant with ISO 22301:2012
Are developed by practicing ISO 22301 auditors
Are fully customisable
Save time and money by accelerating your business continuity management system implementation project and ensure your organisation's survival. 
Table Of Contents
Blank Templates
Basic Business Continuity/Incident Management Plan
Basic Calling Tree Work Instruction
Basic Checklist
Basic Management Review Meeting Agenda
Basic Meeting Agenda
Basic Meeting Agenda: Initial Board Meeting
Basic Meeting Agenda: Second Board Meeting
Basic Meeting Minutes
Basic Meeting Minutes: Initial Board Meeting
Basic Meeting Minutes: Second Board Meeting
Basic Procedure
Basic Schedule
Basic Service Level Agreement
Basic Work Instruction
Project Tools
ISO 22301 Documentation Dashboard
Business Continuity and ISO 22301:2012 Overview Presentation Implementation Plan
ISO 22301:2012 BCMS Gap Analysis Tool
ISO 22301 PDCA Cycle and Documentation Guidance
Requirement vs Document mapping
ISO22301 BCMS Documentation Task Manager
Section 4
Context of the Organisation Procedure MSS DOC 4.1
Identification of Interested Parties Procedure MSS DOC 4.2
Scope Statement MSS REC 4.3
Section 5
Business Continuity Policy BCMS DOC 5.3
Document Management Tool: Roles and Responsibilities BCMS REC 5.4
Section 6
Business Continuity Management System Plan BCMS DOC 6
Business Continuity Objectives and Planning Procedure BCMS DOC 6.2
Actions to Address Risks and Opportunities Plan BCMS REC 6.1
Section 7
Competence Procedure MSS DOC 7.2 Hiring and New Starters Procedure MSS DOC 7.2.2
Training and Development Procedure MSS DOC 7.2.3
Leavers Process MSS DOC 7.2.4
Business Continuity Awareness Procedure MSS DOC 7.3
Your role in BCM Incident Response BCMS DOC 7.3A
Communications Procedure MSS DOC 7.4
Protection and Control of Documentation Procedure MSS DOC 7.5.3 Competence Framework BCMS REC 7.2
Job Description MSS REC 7.2.1
Induction Checklist MSS REC 7.2.2
Master list of Procedures MSS REC 7.5.3A
Master list of Records MSS REC 7.5.3B
Section 8
Business Impact Analysis Procedure BCMS DOC 8.2
Business Continuity Strategy BCMS DOC 8.3
Business Continuity / Incident Management Plan BCMS DOC 8.4
Incident Response Procedure BCMS DOC 8.4.2
ERT Action Checklist BCMS DOC 8.4.4A
Physical Premises Checklist BCMS DOC 8.4.4B
Media Communications Checklist BCMS DOC 8.4.4C
Testing, Maintaining and Re-assessing BC Plans BCMS DOC 8.5
Business Continuity Management Exercise BCMS DOC 8.5.1
Business Continuity Management Exercise Report BCMS DOC 8.5.2
Risk Assessment Procedure RM-BCMS DOC 8.2.3
Business Impact Analysis Tool BCMS REC 8.2
Incident Log BCMS REC 8.4.2
Key Customers Log BCMS REC 8.4.4
Handwritten Log BCMS REC 8.4.4A
Risk Register / Treatment Plan RM-BCMS REC 8.2.3
Section 9
Monitoring, Measurement, Analysis and Evaluation Procedure MSS DOC 9.1 Evaluation of Business Continuity Procedure BCMS DOC 9.1.2
Internal Audit Procedure MSS DOC 9.2
Management Review Procedure MSS DOC 9.3
Business Continuity Assurance Programme BCMS REC 9.1
Measuring BCMS Performance Matrix BCMS REC 9.1.1
Incident Report BCMS REC 9.1.2
Internal Audit Report Lead Sheet MSS REC 9.2.2
Management Review Record MSS REC 9.3
Section 10
Public Improvement Procedure MSS DOC 10.1
Corrective Action Report MSS REC 10.1.1
Nonconformance Report MSS REC 10.1.1A
Nonconformance Report Log MSS REC 10.1.1B
Improvement Opportunity Report MSS REC 10.1.1C
Top Level documents
BCMS Guidelines
Business Continuity Manual
BCMS Assurance Programme
Update Guidance Updates v1.2 – v2.0
Reviews