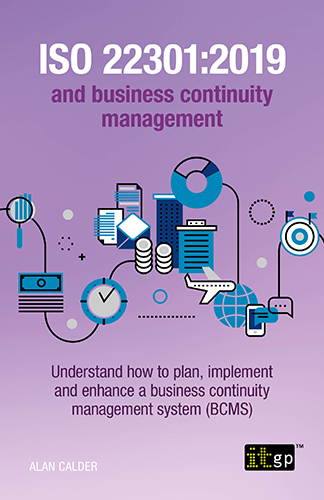 ISO 22301:2019 and business continuity management - Understand how to plan, implement and enhance a business continuity management system (BCMS)
Details
SKU: 5701
Format: Softcover
ISBN13: 9781787782990
BIC: Natural disasters, COMPUTING: GENERAL
BISAC: COMPUTERS / General, COMPUTERS / System Administration / Backup & Recovery
Pages: 154
Published: 25 Mar 2021
Availability: In Stock

Description
Safeguard your organisation's future with business continuity management
Business continuity – planning for, protecting against and ensuring recovery from disruptive events – is more important than ever.
In an increasingly volatile world – exemplified by the COVID-19 pandemic – organisations are looking at business continuity from a fresh perspective. The illusion of business as a rampart against which the waves of the world break harmlessly is shattered; it is no longer possible to pretend that an organisation can weather all storms equally, or that the limited contingencies organisations develop are sufficient to protect them.
As a result, more and more organisations are looking to ISO 22301 – the international standard that defines the requirements for a BCMS – to safeguard their future.
ISO 22301 requirements and business continuity best practice
ISO 22301:2019 and business continuity management – Understand how to plan, implement and enhance a business continuity management system (BCMS) walks you through the requirements of ISO 22301:2019, explaining what they mean and how your organisation can achieve compliance. Whether you are seeking certification against the Standard or are simply looking to benefit from business continuity concepts and practices without developing a formal system, this book contains all you need to know.
It is an essential companion guide for those working in business continuity who are looking to introduce or optimise a BCMS aligned with ISO 22301. The book provides a comprehensive introduction to business continuity best practice, including:
Using ISO 22301
Context, interested parties and scope
Leadership, policy and responsibilities
Planning
Support
Operation
Business continuity strategies and solutions
Business continuity plans and procedures
Performance evaluation
Improvement
Certification
Suitable for business continuity managers, risk managers, compliance officers, senior managers, operations managers, project managers and consultants, this practical guide to ISO 22301 will show you how to develop and implement a BCMS so you can minimise the impact of a disaster on your business and continue to provide essential services to your customers, while reassuring all stakeholders that you take business continuity best practice seriously.
Minimise the impact of a disaster on your business with ISO 22301 – buy this book today!
Reviews
Table of contents
Introduction
Chapter 1: Using ISO 22301
Chapter 2: Context, interested parties, and scope
Chapter 3: Leadership, policy and responsibilities
Chapter 4: Planning
Chapter 5: Support
Chapter 6: Operation
Chapter 7: Business continuity strategies and solutions
Chapter 8: Business continuity plans and procedures
Chapter 9: Performance evaluation
Chapter 10: Improvement
Chapter 11: Addenda
Further reading