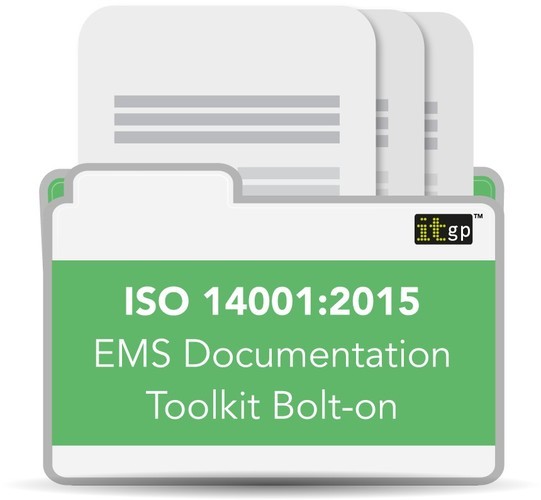 ISO 14001 - 2015 EMS Documentation Toolkit Bolt-on
Details
SKU: 4807
Format: Toolkit
ISBN13: 9781849288897
BIC: Business and the environment: 'green' approaches to business, COMPUTING: GENERAL
BISAC: BUSINESS & ECONOMICS / Green Business, COMPUTERS / General
Published: 09 Dec 2016
Availability: In Stock

Description
Manage your environmental responsibilities and comply with ISO 14001:2015 as you expand your integrated management system and control the environmental impact of your activities, products and services, while demonstrating the continual improvement of their environmental performance as part of your IMS.
This bolt-on includes document templates relating to ISO 14001:2015, which can be easily added to your existing ITGP ISO 9001:2015 QMS and/or ISO 27001:2013 ISMS documentation toolkits without unnecessarily duplicating documents.
The benefits of integrating your management systems
An integrated management system (IMS) combines all business components into one coherent system, streamlining process management and operations, meeting business objectives and providing organisations with:
A common approach to comparing risks that occur within different organisational divisions
Regulation management applicable to their organisational and departmental needs
Training, support and awareness programmes typical of the needs of employees and departments
Unique features of the ISO 14001 Documentation Toolkit Bolt-on:
Tools to strengthen your project – Compare your current state of ISO 14001:2015 compliance with the Standard's requirements throughout your implementation using the gap analysis and documentation dashboard tools.
No need to repeat single-input customisation – Move these bolt-on templates into your existing documented ISO 27001:2013 ISMS or ISO 9001:2015 QMS and they will automatically import the information you have already entered in your UserInput sheet.
Includes the ISO 14001:2004 to ISO 14001:2015 Gap Analysis Tool and the ISO 14001:2004 to ISO 14001:2015 Conversion Tool.
Prerequisites:
The ISO 14001:2015 EMS Documentation Toolkit Bolt-on is designed to integrate with these ITGP products only:

ISO 27001:2013 ISMS Documentation Toolkit (v3.0 onwards released September 2015)
ISO 9001:2015 QMS Documentation Toolkit (v1.0 onwards released November 2015)
Technical information
The complete ISO 14001 Documentation Toolkit is suitable for organisations of all sizes and types, and in all locations.
This bolt-on will only complement a complete version of the ITGP toolkits noted above.
If the toolkit is updated within 12 months of your purchase, we will send you the newest version for free.
12 months' support does not extend to consultancy or project implementation advice.
Changes resulting from new editions of ISO standards are not included.
This toolkit is compatible with Office 2007, 2010 and 2013. If you require templates compatible with earlier or other (Mac) versions of Microsoft Office, please contact us.
The latest version of the ISO 14001:2015 EMS Documentation Toolkit is v1.2.
Simplify your journey to ISO 14001:2015 compliance using this toolkit.
Table Of Contents
Section 4
Context of Organisation MSS DOC 4.1 
Identification of Interested Parties Procedure MSS DOC 4.2
Legislation of Organisation MSS REC 4.2
Scope Statement MSS REC 4.3
Section 5
Integrated Management System Policy MSS DOC 5.2
Environmental Policy EMS DOC 5.2
Roles and Responsibilities Document Management Tool EMS REC 5.3
Section 6
Risk Management Procedure MSS DOC 6.1
EMS Plan EMS DOC 6 6
Environmental Aspects, Impacts, Objectives, Targets and Programmes Procedure EMS DOC 6.2
Environmental Aspects Record EMS REC 6.1.2
Objectives Programme Form EMS REC 6.2
Section 7
Competence Procedure MSS DOC 7.2
Hiring and New Starters Procedure MSS DOC 7.2.2
Training and Development Procedure MSS DOC 7.2.3
Leavers Process MSS DOC 7.2.4
Awareness Procedure MSS DOC 7.3
Communication Procedure MSS DOC 7.4
Document Control MSS DOC 7.5.3
Competence Matrix MSS REC 7.2
Job Description MSS REC 7.2.1
Environmental Manager Job Description EMS REC 7.2.1a
Induction Checklist MSS REC 7.2.2
Training Record Matrix MSS REC 7.2.3
Master List of Procedures MSS REC 7.5.3b
Master List of Records MSS REC 7.5.3b
Operational Control MSS DOC 8.1
Printing Work Instruction EMS DOC 8.1a
Waste Management Work Instruction EMS DOC 8.1b
Energy Management Work Instruction EMS DOC 8.1c
Emergency Preparedness and Response Procedure EMS DOC 8.2
Section 9
Performance Evaluation Procedure MSS DOC 9.1
Internal Audit Procedure MSS DOC 9.2
Management Review MSS DOC 9.3
Monitoring and Measurement Register MSS REC 9.1
Internal Audit Schedule MSS REC 9.2.1
Internal Audit Report Lead Sheet MSS REC 9.2.2
Management Review Record MSS REC 9.3
Section 10
Non Conformity Procedure MSS DOC 10.1
Continual Improvement MSS DOC 10.2
Corrective Action Report MSS REC 10.1.1
Non Conformance Report MSS REC 10.1.1A
Non Conformance Report Log MSS REC 10.1.1B
Reviews