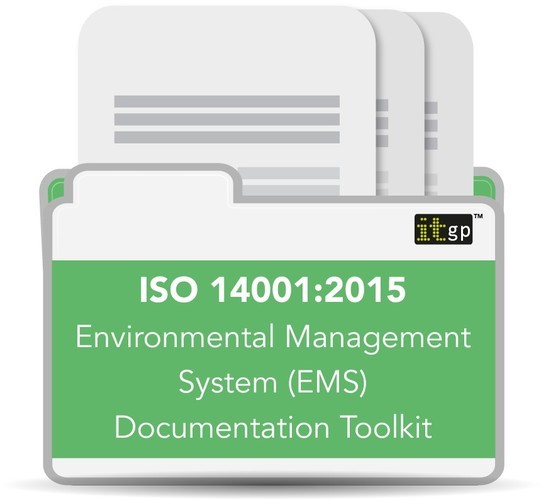 ISO 14001 2015 EMS Documentation Toolkit
Details
SKU: 4723
Format: Toolkit
ISBN13: 9781849287722
BIC: ENERGY TECHNOLOGY & ENGINEERING, COMPUTING: GENERAL
BISAC: TECHNOLOGY & ENGINEERING / Power Resources / General, COMPUTERS / General
Published: 31 Oct 2015
Availability: In Stock

Description
ISO 14001:2015 specifies the requirements for an EMS (environmental management system), enabling organisations to control the environmental impact of their activities, products and services, and continually improve their environmental performance.
ISO 14001 certification requires organisations to prove their compliance with the Standard with appropriate documentation. However, with this toolkit you will have all the direction and tools at hand to streamline your project.
Designed and developed by expert ISO 14001 practitioners, and enhanced by ten years of customer feedback and continual improvement, this ISO 14001 toolkit will help you understand how to control the environmental impact of your activities, products and services, while demonstrating the continual improvement of your environmental performance.
This toolkit provides organisations of all types and sizes with the tools and resources necessary to successfully create and implement the documentation required for ISO 14001:2015 compliance.
With this toolkit you can:
Get professional guidance to become your own expert, saving time and avoiding mistakes.
Work from ISO 14001-compliant documentation.
Embed the documentation into your organisation quickly and easily by using the pre-formatted templates. 
Make sure this toolkit is right for your organisation. Download free samples with a free demo! Download now
A complete set of easy-to-use, customisable and fully ISO 14001-compliant documentation templates, saving you time and money. Don't delay, buy your toolkit today. 
Table Of Contents
Project Tools
ISO 14001:2004 to ISO 14001:2015 Conversion Tool
ISO 14001:2004 to ISO 14001:2015 Gap Analysis Tool
ISO 14001:2015 Gap Analysis Tool
ISO 14001:2015 Documentation Dashboard
Environmental Manual
Context of Organisation – Section 4
| | |
| --- | --- |
| Context of Organisation Procedure | MSS DOC 4.1 |
| Identification of Interested Parties | MSS DOC 4.2 |
| Scope Statement | MSS REC 4.3 |
| Legislation & Regulation Record | MSS REC 4.2 |
Leadership – Section 5
| | |
| --- | --- |
| Environmental Policy | EMS DOC 5.2 |
| Document Management | EMS REC 5.3 |
 Planning – Section 6
| | |
| --- | --- |
| Planning Plan | EMS DOC 6 |
| Risk Management Procedure | MSS DOC 6.1 |
| Environmental Aspects, Impacts, Objectives, Targets and Programmes Procedure | EMS DOC 6.2 |
| Objectives Programme Form | EMS REC 6.2 |
| Environmental Aspects Record | EMS REC 6.1.2 |
 Resource – Section 7
| | |
| --- | --- |
| Competence Procedure | MSS DOC 7.2 |
| Hiring & New Starters Procedure | MSS DOC 7.2.2 |
| Training Development Procedure | MSS DOC 7.2.3 |
| Leavers Process | MSS DOC 7.2.4 |
| Awareness Procedure | MSS DOC 7.3 |
| Communication Procedure | MSS DOC 7.4 |
| Document Control | MSS DOC 7.5.3 |
| Competence Matrix | MSS REC 7.2 |
| Job Description | MSS REC 7.2.1 |
| Environmental Manager Job Description | EMS REC 7.2.1a |
| Induction Checklist | MSS REC 7.2.2 |
| Training Record Matrix | MSS REC 7.2.3 |
| Master List Procedures | MSS REC 7.5.3A |
| Master List Records | MSS REC 7.5.3B |
 Operations – Section 8
| | |
| --- | --- |
| Operational Control | MSS DOC 8.1 |
| Printing Work Instruction | EMS DOC 8.1a |
| Waste Management Work Instruction | EMS DOC 8.1b |
| Energy Management Work Instruction | EMS DOC 8.1c |
| Emergency Preparedness and Response Procedure | EMS DOC 8.2 |
Performance Evaluation – Section 9
| | |
| --- | --- |
| Monitoring Measurement | MSS DOC 9.1 |
| Internal Audit Procedure      | MSS DOC 9.2 |
| Management Review | MSS DOC 9.3 |
| Monitoring and Measurement Register | MSS REC 9.1 |
| Internal Audit Schedule | MSS REC 9.2.1 |
| Internal Audit Lead Sheet | MSS REC 9.2.2 |
| Management Review Record | MSS REC 9.3 |
Continual Improvement – Section 10
| | |
| --- | --- |
| Control of Non Conformances | MSS DOC 10.1 |
| Continual Improvement | MSS DOC 10.2 |
| Corrective Action Report | MSS REC 10.1.1 |
| Non-Conformance Report | MSS REC 10.1.1a |
| Non-Conformance Report Log | MSS REC 10.1.1b |
Reviews