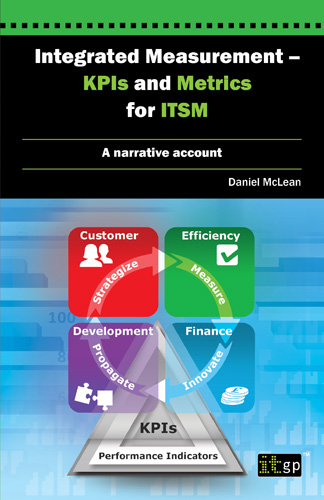 Integrated Measurement - KPIs and Metrics for ITSM - A narrative account
Details
SKU: 4238
Format: Softcover
ISBN13: 9781849283830
BIC: COMPUTING: GENERAL
BISAC: COMPUTERS / General
Pages: 186
Published: 21 May 2013
Availability: In Stock

Description
Companies often turn to Key Performance Indicators (KPIs) to measure performance, but there is a common misconception that the mere act of measurement will change behaviour and improve performance.
This book is one of a series covering the implementation of new processes within an organisation and how to facilitate behaviour changes to make the project a success. 
In this fictional account of the implementation of a KPI management system to improve an IT service management function, we follow the adventures of Chris. Chris is an IT professional who has been given the task of implementing the new measures. Chris meets many of the problems faced by real-life professionals in the same situation, including the common misconception that KPIs are simple, easy to create, and will cause staff to change their behaviour and improve their performance without additional intervention. In order to succeed, he sets about meeting the challenge of changing behaviour and overcoming resistance to change.
Integrated Measurement – KPIs and Metrics for ITSM cleverly utilises a narrative story to make the subject matter accessible and engaging for the reader. The characters are fictitious, but the story comes from the author's own experience and real third party accounts.
Each chapter ends with conclusions drawn from events in the story, giving the reader a wealth of practical advice on the pitfalls to anticipate and avoid. Readers with little or no ITIL® background will find this book interesting, entertaining and extremely useful in understanding the keys to a successful implementation of a KPI management system.
I really enjoyed it. I couldn't put it down once I had started!
Dave Jones, ITSM consultant
Read this book and understand metrics and KPIs for IT service management.
Reviews
Table of contents
1: So Easy Even a Child Could Do It
2: I'd Thought Things Were Going Rather Well
3: Try to Get it Right this Time
4: The Trivial Many Versus the Meaningful Few
5: Teaching Old Dogs New Tricks
6: Every Journey Begins with a Destination
7: Friend or Foe?
8: Hunters and Gatherers
9: Whispers in the Halls
10: What's the Use?
11: Bringing in the Data
12: The Signal Amongst the Noise
13: Knowledge wants to be Free
14: Long Goodbyes