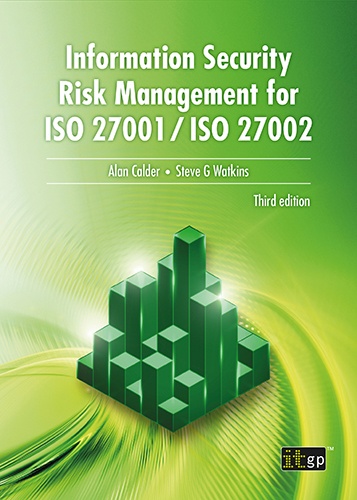 Information Security Risk Management for ISO 27001/ISO 27002, third edition
Details
SKU: 5402
Format: Softcover
ISBN13: 9781787781368
BIC: Network security, COMPUTER SECURITY, COMPUTING & INFORMATION TECHNOLOGY
BISAC: COMPUTERS / Security / General, COMPUTERS / General, COMPUTERS / Security / Network Security
Pages: 194
Published: 10 Sep 2019
Availability: In Stock

Description
Protect your information assets with effective risk management
In today's information economy, the development, exploitation and protection of information and associated assets are key to the long-term competitiveness and survival of corporations and entire economies. The protection of information and associated assets – information security – is therefore overtaking physical asset protection as a fundamental corporate governance responsibility. 
Information security management system requirements
ISO 27000, which provides an overview for the family of international standards for information security, states that "An organisation needs to undertake the following steps in establishing, monitoring, maintaining and improving its ISMS […] assess information security risks and treat information security risks". The requirements for an ISMS are specified in ISO 27001. Under this standard, a risk assessment must be carried out to inform the selection of security controls, making risk assessment the core competence of information security management and a critical corporate discipline.
Plan and carry out a risk assessment to protect your information
Information Security Risk Management for ISO 27001 / ISO 27002:
Provides information security and risk management teams with detailed, practical guidance on how to develop and implement a risk assessment in line with the requirements of ISO 27001.
Draws on national and international best practice around risk assessment, including BS 7799-3:2017 (BS 7799-3).
Covers key topics such as risk assessment methodologies, risk management objectives, information security policy and scoping, threats and vulnerabilities, risk treatment and selection of controls.
Includes advice on choosing risk assessment software.
Ideal for risk managers, information security managers, lead implementers, compliance managers and consultants, as well as providing useful background material for auditors, this book will enable readers to develop an ISO 27001-compliant risk assessment framework for their organisation and deliver real, bottom-line business benefits.
Buy your copy today!
Reviews
Table of contents
Introduction
Chapter 1: Risk management
Chapter 2: Risk assessment methodologies
Chapter 3: Risk management objectives
Chapter 4: Roles and responsibilities
Chapter 5: Risk assessment software
Chapter 6: Information security policy and scoping
Chapter 7: The ISO 27001 risk assessment
Chapter 8: Information assets
Chapter 9: Threats and vulnerabilities
Chapter 10: Scenario-based risk assessment
Chapter 11: Impact, including asset valuation
Chapter 12: Likelihood
Chapter 13: Risk level
Chapter 14: Risk treatment and the selection of controls
Chapter 15: The Statement of Applicability
Chapter 16: The gap analysis and risk treatment plan
Chapter 17: Repeating and reviewing the risk assessment
Appendix 1: vsRisk Cloud
Appendix 2: ISO 27001 implementation resources
Appendix 3: Books by the same authors