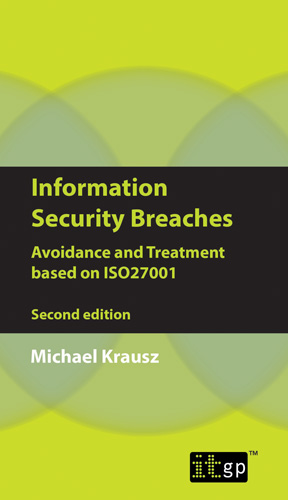 Information Security Breaches - Avoidance and Treatment based on ISO27001
Details
SKU: 2804
Format: Softcover
ISBN13: 9781849285834
BIC: COMPUTER SECURITY
BISAC: COMPUTERS / Security / General
Pages: 52
Published: 27 May 2014
Availability: In Stock

Description
Many titles explain how to reduce the risk of information security breaches. Nevertheless breaches do occur, even to organisations that have taken all reasonable precautions. Information Security Breaches - Avoidance and treatment based on ISO27001:2013 helps you to manage this threat by detailing what to do as soon as you discover a breach.
Be prepared, be prompt, be decisive
When your organisation's security is compromised, you cannot afford to waste time deciding how to resolve the issue. You must be ready to take prompt and decisive action. Updated to cover ISO27001:2013, this second edition gives you clear guidance on how to treat an information security breach and tells you the plans and procedures you have to put in place to minimise damage and return to business as usual.
A recovery plan will help you to:
recover, and resume normal operations, more quickly
preserve customer confidence by quickly resolving service disruption
secure evidence to help with any criminal investigation and improve your chances of catching those responsible.
Read this guide and find out how to manage a data breach.
Reviews
Table of contents
Introduction
1: What constitutes a breach?
2: Treatment using ISO27001
3: Case studies