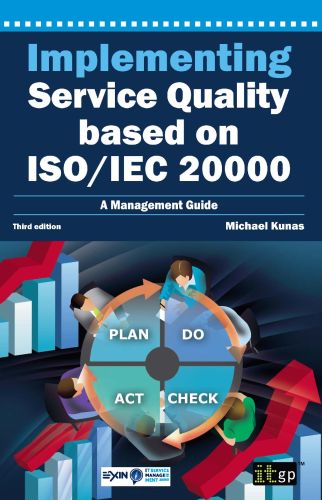 Implementing Service Quality based on ISO/IEC 20000 - A Management Guide
Details
SKU: 3372
Format: Softcover
ISBN13: 9781849284424
BIC: COMPUTING: GENERAL
BISAC: COMPUTERS / General
Pages: 120
Published: 25 Oct 2012
Availability: In Stock

Description
ISO/IEC 20000 is the international standard for IT service management, and certification is a great way to show the world your expertise. Implementation and certification will not only improve your business processes and practices, it will reassure new and existing customers that your company is efficient, reliable and trustworthy. Customers will return because they know from experience that your service is second to none.
ISO/IEC 20000 to win customers
Many customers look for suppliers with ISO/IEC 20000 certification, seeking the reassurance it provides. This book will guide you through implementation and certification. Your streamlined management processes will enable you to offer first-class customer service at competitive prices. The positive impact on your profit margins is just one of the benefits that certification can give you.
Aligned to ISO/IEC 20000 training programmes
As well as a great source of practical advice and recommendations on how to prepare for audit and implementation, Implementing Service Quality based on ISO/IEC 20000is also the ideal companion to a number of training courses such as EXIN's IT Service Management based on ISO/IEC 20000 programme and PEOPLECERT's Professional Certification in ISO 20000. The Foundation level and Associate level of the EXIN programme are also completely aligned to the book.
Ideal companion to your ISO/IEC 20000 certification project
Gives a clear and detailed breakdown of the 2011 edition of the ISO 20000 Standard
Identifies the role of ISO/IEC 20000 and other related standards, as well as ITIL and COBIT and the relationship between them
Explains what is really meant by 'quality'
Establishes the importance of a service management system and gives practical recommendations for its implementation
Tells you how to prepare for audit, including carrying out a Gap Analysis
Offers an explanation of the individual processes outlined in the Standard and gives clear guidelines for their implementation.
Buy this book and see the benefits of ISO/IEC 20000 certification.
Reviews
Table of contents
1: Introduction to ISO/IEC 20000
2: Service Quality and ISO/IEC 20000
3: The ISO/IEC 20000 Family and Emerging Related Standards
4: Frameworks and Management System Integration
5: Requirements for a Service Management System
6: Scope Definition
7: Gap Analysis
8: Planning and Implementing Service Management
9: Design and Transition of New or Changed Services
10: Service Delivery Processes
11: Relationship Processes
12: Resolution Processes
13: Control Processes
14: Release Process
15: Preparing for the Audit