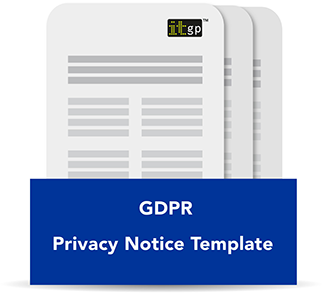 GDPR Privacy Notice Template
Details
SKU: 5670
Format: Cloud Annual Subscription
ISBN13: 9781787782754

Published: 01 Nov 2021
Availability: In Stock

ex vat
Annual subscription thereafter
£1.00
ex vat
Overview
Easily create your GDPR privacy notice using this template
Under the General Data Protection Regulation (GDPR), organisations are required to tell data subjects that they are processing their personal data and explain what they intend to do with it.
A privacy notice is a public statement of how your organisation applies and complies with the GDPR's data processing principles. It is an essential part of compliance under Articles 13 and 14 of the Regulation.
The GDPR states that the information must be:
Concise, transparent, intelligible and easily accessible;
Written in clear and plain language; and
Free of charge.
Do you need more help with your GDPR compliance project?
Clear and effective policies are a key part of GDPR compliance.
If you are unsure what elements your privacy notice should include or where to start, this template, created by our expert GDPR practitioners, can help you create one in minutes, enabling you to fulfil your Article 24 obligations.
Benefits
Why opt for our GDPR Privacy Notice Template?
Comply without breaking the bank
A fast and cost-effective route to compliance without the added expense of consultancy.
Quick and easy
Get the job done quicker with our ready-made, customisable template.
Expert direction
Professional guidance enables you to become your own expert, saving money and avoiding mistakes.
World-leading toolkits
We have spent thousands of hours over the past 20 years developing our toolkits, so you don't need to waste your time reinventing the wheel.
Straightforward implementation
Continually updated and improved based on customer feedback and updates to data protection legislation, our template ensures simple, straightforward implementation.
We are the experts
The GDPR Privacy Notice Template has been developed by expert GDPR (General Data Protection Regulation) practitioners. 
What's included
What's included?
The GDPR Privacy Notice Template includes:
Access to a customisable privacy notice template in our online platform DocumentKits
Technical & FAQs
Technical information
This is an annual subscription product; however you can cancel at any time. (T&Cs apply)
All our documentation toolkits are electronically fulfilled and accessible via DocumentKits, our online platform.
Your subscription includes access for up to ten users.
The DocumentKits platform is compatible with all devices, operating systems and applications.
You will need to use the latest version of your chosen web browser (e.g. Chrome, Edge, Firefox or Internet Explorer).
FAQs
The toolkit files are accessible via DocumentKits, our online platform, within which you can view and customise the templates in line with your organisation's policies, processes and procedures. Tools and documentation dashboards, where provided, will be in downloadable Excel format, and guidance documents are provided as downloadable PDFs. The customised toolkit documents can be downloaded in PDF format.
Our documentation toolkits are suitable for organisations of any type or size and in any sector, and contain the necessary documentation templates and tools for your implementation project. While some document templates may not initially be relevant within the scope of your project, they may prove valuable over time as your business grows.
You will be purchasing a single subscription to the toolkit for use in one organisation only. If you wish to use the toolkit in multiple companies, then please contact us here to discuss your requirements.
No. The toolkit is accessible via DocumentKits, our online platform, which runs in a web browser.
All documentation toolkits are electronically fulfilled. Once you purchase the toolkit, you will be taken to a web page and asked to enter some basic information about your organisation to allow the toolkit to be configured within DocumentKits. You will also receive an email with your username and temporary password, with details on how to access the system.
The toolkits are not an out-of-the-box solution; depending on your implementation project, you will need to add details to the templates that match what your company does and what it should be doing. Compliance, management systems and certification projects are complex and require a lot more work than just documentation, so this should be considered when purchasing a toolkit.
Our documentation toolkits provide a framework for documenting your compliance with standards and regulations, with content and guidance written by experts. You will need to ensure the templates are edited to truly reflect the nature of your business and the environment within which it operates.
Our sister company, IT Governance Ltd, offers a wide range of packaged solutions to help you as much, or as little, as you need.
Yes – please do!
Our toolkits contain free-text areas where you are prompted to customise the information according to your organisation's own policies, procedures and records.
We provide unlimited support to help you set up your account, add contributors and customise the templates.
Our support service does not extend to consultancy and implementation advice. If you would further support you can contact us to discuss your requirements.
As documentation toolkits cannot be physically returned, we are unable to offer refunds.
For more information, please see our terms and conditions.
End-User DocumentKits Agreement
If you are thinking about purchasing a toolkit, please click here to review the end-user licence agreement for DocumentKits.
For more information, visit our DocumentKits FAQ page.
Reviews