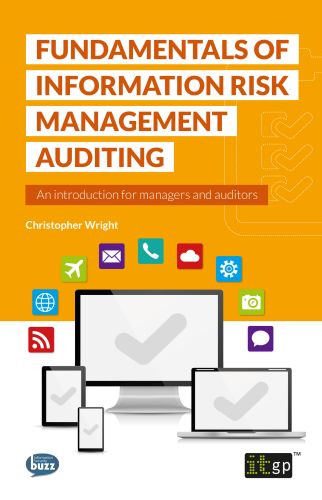 Fundamentals of Information Security Risk Management Auditing - An introduction for managers and auditors
Details
SKU: 4758
Format: Softcover
ISBN13: 9781849288156
BIC: COMPUTER SECURITY, COMPUTING & INFORMATION TECHNOLOGY
BISAC: COMPUTERS / Security / General, COMPUTERS / General
Pages: 170
Published: 12 Apr 2016
Availability: In Stock

Description
This book will be particularly useful for anyone involved in the audit of information security and risk in all organizations that have related issues and concerns. It provides practical approaches to address information risk auditing, even for those with limited technical knowledge. This approach provides understandable examples, which will help readers to consider different aspects, methods and technical options when auditing information security and risk.
Antonio Velasco, CEO of Sinersys Technologies
For any modern business to thrive, it must assess, control and audit the risks it faces in a manner appropriate to its risk appetite. As information-based risks and threats continue to proliferate, it is essential that they are addressed as an integral component of your enterprise's risk management strategy, not in isolation. They must be identified, documented, assessed and managed, and assigned to risk owners so that they can be mitigated and audited.
Fundamentals of Information Risk Management Auditing provides insight and guidance on this practice for those considering a career in information risk management, and an introduction for non-specialists, such as those managing technical specialists.
Each chapter contains an overview of the risks and controls that you may encounter when performing an audit of information risk, together with suggested mitigation approaches based on those risks and controls. Chapter summaries provide an overview of the salient points for easy reference, and case studies illustrate how those points are relevant to businesses.
The book concludes with an examination of the skills and qualifications necessary for an information risk management auditor, an overview of typical job responsibilities, and an examination of the professional and ethical standards that an information risk auditor should adhere to.
Kick-start your career in information risk management with this introductory guide - buy your copy today. 
Reviews
Table of contents
Part I: What is risk and why is it important?. 
1: Risks and controls
2: Enterprise risk management (ERM) frameworks
3: Risk management assurance and audit
4: Information Risks and Frameworks
Part II: Introduction to General IT and Management Risks
5: Overview of General IT and Management Risks
6: Security and Data Privacy
7: System Development and Change Control
8: Service Management and Disaster Planning
Part III: Introduction to Application Controls
9: Overview of Application Controls (Integrity)
Part IV: Life as an Information Risk Management Specialist
10: Planning, Running and Reviewing Information Risk Management Assignments
11: Personal Development and Qualifications