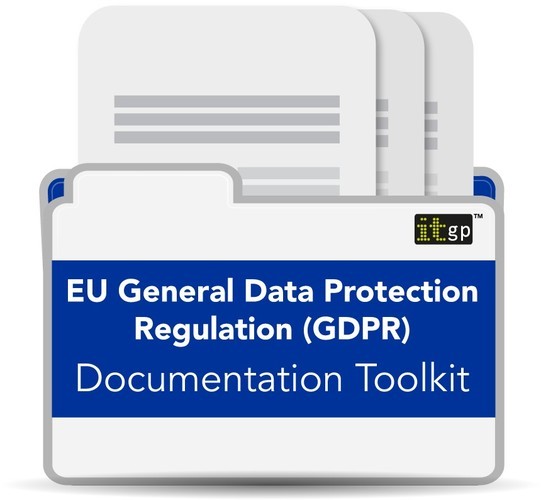 EU General Data Protection Regulation (GDPR) Documentation Toolkit v2.0
Details
SKU: 4850
Format: Toolkit
ISBN13: 9781849289443
BIC: Data protection law, COMPUTING: GENERAL, COMPUTING & INFORMATION TECHNOLOGY
BISAC: LAW / Computer & Internet, COMPUTERS / General
Published: 31 Jul 2017
Availability: In Stock

Description
The introduction of the accountability principle under the GDPR means that not only do organisations have to comply with the GDPR but they also have to be able to demonstrate compliance. This includes keeping up-to-date records of processing activities, and sharing these records with data protection authorities upon request.
Designed and developed by expert GDPR practitioners, and used by hundreds of organisations worldwide, the bestselling EU GDPR Documentation Toolkit provides all the templates, worksheets and policies required to comply with documented aspects of the Regulation.
With this toolkit, you can:
Get professional guidance on GDPR compliance obligations and personal information best practices;
Make sure that you have adequately identified risks to personal data and are able to put in place the necessary controls in order to protect your data;
Embed the documentation into your organisation quickly and easily by using the pre-formatted templates; and
Integrate GDPR documentation with your ISO 27001 documentation, reducing duplication.
Make sure this toolkit is right for your organisation. Download free samples with a free demo! Download now
The EU GDPR Documentation Toolkit is the market-leading toolkit and has helped hundreds of organisations worldwide prepare for GDPR compliance. Download your copy today. 
Download your free EU GDPR - A Pocket Guide eBook when purchasing this toolkit.
Want to purchase individual documents? Find out more information here: https://www.itgovernancepublishing.co.uk/topic/individualtemplates
Table Of Contents
Included in the GDPR Documentation Toolkit
A complete set of mandatory and supporting documentation templates that are easy to use, customisable and ensure compliance with the GDPR, including:

Data protection policy
Training policy
Information security policy
Data protection impact assessment procedure
Retention of records procedure
Subject access request form and procedure
Privacy procedure
International data transfer procedure
Data portability procedure
Data protection officer (DPO) job description
Complaints procedure
Audit checklist for compliance
Privacy notice
And much more.
Helpful project tools to ensure complete coverage of the GDPR:

BS 10012:2017 PIMS Gap Analysis Tool – check your organisation's current stance against personal information management system best practice
Data Protection Impact Assessment (DPIA) Tool – answer a set of screening questions as to whether you need to carry out a DPIA, moving onto a risk-based assessment enabling you to record where personal data is collected and how it is processed
Documentation dashboard – keep track of all your documentation and its approval process as you go
EU GDPR - A Pocket Guide eBook download – A key resource to help understand the principles of data protection and their new obligations under the GDPR. 
Guidance documents

Pseudonymisation, minimisation and encryption guidance
Practitioner guidance on selected toolkit items
Reviews