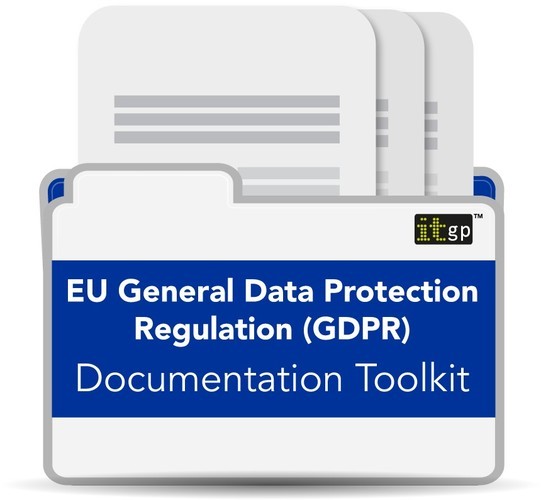 EU General Data Protection Regulation (GDPR) Documentation Toolkit v2.0
Details
SKU: 4850
Format: Toolkit
ISBN13: 9781849289443
BIC: Data protection law, COMPUTING: GENERAL, COMPUTING & INFORMATION TECHNOLOGY
BISAC: LAW / Computer & Internet, COMPUTERS / General
Published: 31 Jul 2017
Availability: In Stock

Description
Save time and money on your GDPR (General Data Protection Regulation) compliance project with our comprehensive documentation toolkit.
The GDPR applies to all organisations that operate in the EU or handle EU residents' personal data. These organisations must not only comply with the Regulation but also be able to prove this compliance, which can be a long and difficult process.
Our market-leading GDPR Documentation Toolkit has helped thousands of organisations to quickly and easily complete their compliance projects.
Order your toolkit from ITGP and receive a free eBook copy of EU GDPR – A Pocket Guide.
Why choose the ITGP GDPR Documentation Toolkit?
Reduce the cost of your compliance project. Our comprehensive set of tools and templates provide everything you need to prove compliance with the GDPR.
Focus on your core business. Our customisable templates enable you to efficiently create the documentation you need, giving you more time to focus on what your organisation does best.
Get things right first time with support from the experts. The toolkit has been developed by experienced GDPR practitioners and is informed by their practical experience meeting the Regulation's requirements in hundreds of organisations.
Feel confident in your GDPR compliance. ITGP produced the first GDPR documentation toolkit on the market. It has been used by thousands of organisations of all types and sizes, so you can be sure that the tools and templates will meet your needs.
Key features
Comprehensive coverage of the GDPR, with more than 70 documents including tools, templates, worksheets and policies.
A complete set of easy-to-use, customisable and fully compliant templates.
A detailed dashboard to help you track the progress of your project.
Gap analysis and DPIA (data protection impact assessment) tools to help you identify what you need to do.
Get started on your GDPR compliance project – buy and download your GDPR Documentation Toolkit today.
To ensure our documentation templates are right for your organisation, download a free trial.
The documentation templates are compatible with Office 2016, 2013, 2010 and 2007. If you use a Mac, or an older version of Office or Office 365, please contact team@itgovernancepublishing.co.uk.
If the toolkit is updated within 12 months of purchase, we'll send you the new version for free; please note that this does not include updates that are made as a result of changes to the data standards.
Table Of Contents
Included in the GDPR Documentation Toolkit
A complete set of mandatory and supporting documentation templates that are easy to use, customisable and ensure compliance with the GDPR, including:

Data protection policy
Training policy
Information security policy
Data protection impact assessment procedure
Retention of records procedure
Subject access request form and procedure
Privacy procedure
International data transfer procedure
Data portability procedure
Data protection officer (DPO) job description
Complaints procedure
Audit checklist for compliance
Privacy notice
And much more.
Helpful project tools to ensure complete coverage of the GDPR:

BS 10012:2017 PIMS Gap Analysis Tool – check your organisation's current stance against personal information management system best practice
Data Protection Impact Assessment (DPIA) Tool – answer a set of screening questions as to whether you need to carry out a DPIA, moving onto a risk-based assessment enabling you to record where personal data is collected and how it is processed
Documentation dashboard – keep track of all your documentation and its approval process as you go
EU GDPR - A Pocket Guide eBook download – A key resource to help understand the principles of data protection and their new obligations under the GDPR. 
Guidance documents

Pseudonymisation, minimisation and encryption guidance
Practitioner guidance on selected toolkit items
Reviews