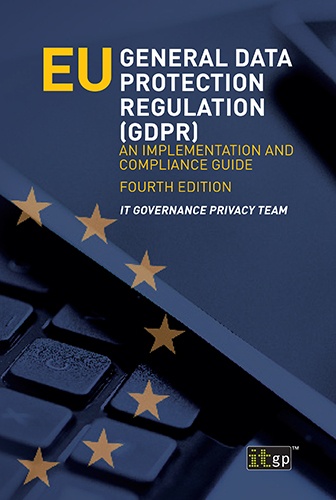 EU General Data Protection Regulation (GDPR) – An implementation and compliance guide, fourth edition
Details
SKU: 5620
Format: Softcover
ISBN13: 9781787782488
BIC: Data protection law, COMPUTING: GENERAL
BISAC: LAW / Computer & Internet, COMPUTERS / General
Pages: 402
Published: 15 Oct 2020
Availability: In Stock

Description
Understand your GDPR obligations and prioritise the steps you need to take to comply
The GDPR gives individuals significant rights over how their personal information is collected and processed, and places a range of obligations on organisations to be more accountable for data protection.
The Regulation applies to all data controllers and processors that handle EU residents' personal information. It supersedes the 1995 EU Data Protection Directive and all EU member states' national laws that are based on it – including the UK's DPA (Data Protection Act) 1998.
Failure to comply with the Regulation could result in fines of up to €20 million or 4% of annual global turnover – whichever is greater. This guide is a perfect companion for anyone managing a GDPR compliance project. It provides a detailed commentary on the Regulation, explains the changes you need to make to your data protection and information security regimes, and tells you exactly what you need to do to avoid severe financial penalties.
Clear and comprehensive guidance to simplify your GDPR compliance project
Now in its fourth edition, EU General Data Protection Regulation (GDPR) – An implementation and compliance guide provides clear and comprehensive guidance on the GDPR. It explains the Regulation and sets out the obligations of data processors and controllers in terms you can understand.
Topics covered include:
The DPO (data protection officer) role, including whether you need one and what they should do;
Risk management and DPIAs (data protection impact assessments), including how, when and why to conduct one;
Data subjects' rights, including consent and the withdrawal of consent, DSARs (data subject access requests) and how to handle them, and data controllers and processors' obligations;
Managing personal data internationally, including updated guidance following the Schrems II ruling;
How to adjust your data protection processes to comply with the GDPR, and the best way of demonstrating that compliance; and
A full index of the Regulation to help you find the articles and stipulations relevant to your organisation.
Supplemental material 
While most of the EU GDPR's requirements are broadly unchanged in the UK GDPR, the context is quite different and will have knock-on effects. You may need to update contracts regarding EU–UK data transfers, incorporate standard contractual clauses into existing agreements, and update your policies, processes and procedural documentation as a result of these changes.  
We have published a supplement that sets out specific extra or amended information for this book. Click here to download the supplement. 
Start your compliance journey now and buy this book today.
Reviews
Table of contents
Introduction
Chapter 1: Scope, controllers and processors
Chapter 2: Data processing principles
Chapter 3: Data subjects' rights
Chapter 4: Privacy compliance frameworks
Chapter 5: Information security as part of data protection
Chapter 6: Lawfulness and consent
Chapter 7: Subject access requests
Chapter 8: Role of the data protection officer
Chapter 9: Data mapping
Chapter 10: Requirements for data protection impact assessments
Chapter 11: Risk management and DPIAs
Chapter 12: Conducting DPIAs
Chapter 13: Managing personal data internationally
Chapter 14: Incident response management and reporting
Chapter 15: GDPR enforcement
Chapter 16: Transitioning and demonstrating compliance
Appendix 1: Index of the Regulation
Appendix 2: EU/EEA national supervisory authorities
Appendix 3: Implementation FAQ
IT Governance resources