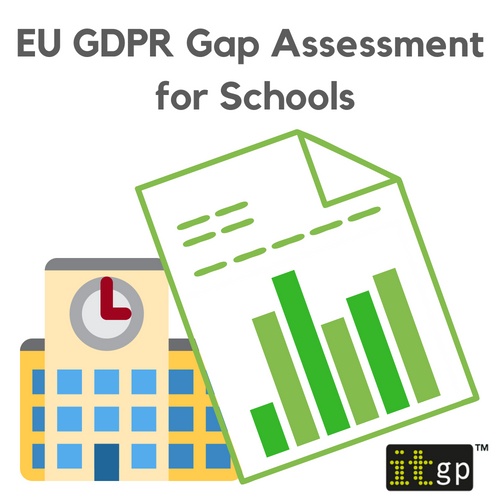 EU GDPR Gap Assessment Tool for Schools
Details
SKU: 4965
Format: Toolkit
ISBN13: 9781787780132
BIC: Data protection law, COMPUTING & INFORMATION TECHNOLOGY, COMPUTING: GENERAL
BISAC: LAW / Computer & Internet, COMPUTERS / General
Published: 13 Jul 2018
Availability: In Stock

Description
The EU GDPR Gap Assessment Tool for schools is a version of our popular EU GDPR Compliance Gap Assessment Tool that has been tailored for schools.
The tool will help schools assess their current stance against the GDPR (General Data Protection Regulation) and establish areas for development.
We have amended the terminology to be more school-specific and changed the roles and responsibilities to reflect the school environment. There are two main areas within the tool:
Questions about the GDPR to help create the next steps for compliance.
Help to identify processes that involve personal data.
The questions have been grouped into sections:
Governance
Risk management
GDPR project
The DPO (data protection officer)
Roles and responsibilities
Scope of compliance
Process analysis
PIMS (personal information management system)
ISMS (information security management system), 'integrity and confidentiality' (Principle 6) and Article 32
Rights of data subjects
These questions should provide your school with a high-level, colour-coded analysis of its state of GDPR compliance.
The tool is in Microsoft Excel format and will work in any Microsoft environment. You don't need to download any other software, but you will need basic knowledge of the GDPR and the processes within your school.
The tool is not designed for conducting a detailed and granular compliance assessment. 
Table Of Contents
Governance
Risk management
GDPR project
The DPO (data protection officer)
Roles and responsibilities
Scope of compliance
Process analysis
PIMS (personal information management system)
ISMS (information security management system), 'integrity and confidentiality' (Principle 6) and Article 32
Rights of data subjects
Reviews