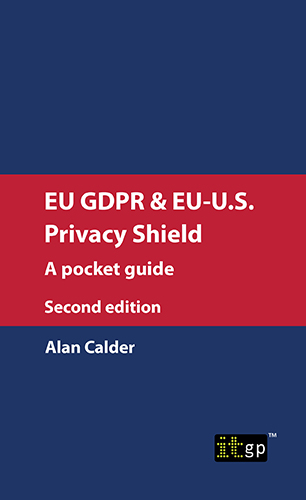 EU GDPR & EU-U.S. Privacy Shield: A pocket guide, second edition
Details
SKU: 4993
Format: Softcover
ISBN13: 9781787780729
BIC: Data protection law, COMPUTER SECURITY, COMPUTING & INFORMATION TECHNOLOGY, Privacy & data protection, COMPUTING: GENERAL
BISAC: LAW / Computer & Internet, COMPUTERS / Security / General, COMPUTERS / Security / Networking, COMPUTERS / General
Pages: 84
Published: 15 Oct 2019
Availability: In Stock

Description
An ideal resource for anyone wanting a clear, concise primer on the GDPR and EU-U.S. Privacy Shield
The GDPR unifies data protection across the EU. It applies to every organization in the world that does business with EU residents.
U.S. organizations can self-certify to the EU-U.S. Privacy Shield (the successor to the Safe Harbor framework), which permits international data transfers of EU data to U.S. organizations.
EU GDPR & EU-U.S. Privacy Shield – A pocket guide, second edition provides an accessible overview of the Regulation, and sets out the compliance obligations for U.S. organizations when handling EU residents' data, including guidance on the EU-U.S. Privacy Shield.
New for the second edition:
A more detailed explanation of which organizations are within the scope of the GDPR, who the authorities are, and the possible repercussions for non-compliance
Additional requirements for controllers that are subject to lower-tier fines for non-compliance
An expanded chapter on the EU-U.S. Privacy Shield
Buy this pocket guide to get a better understanding of:
The GDPR's origins and scope, and who the key authorities are
The key requirements for both controllers and processors
What steps to take to achieve GDPR compliance
How data can be transferred outside the EU, and the role of the EU-U.S. Privacy Shield
The principles of the Privacy Shield, and how to register to the framework
This pocket guide is the ideal resource for anyone wanting a clear, concise primer on the GDPR and EU-U.S. Privacy Shield. Buy your copy today. 
Reviews
Table Of Contents
Introduction
Chapter 1: A brief history of data protection
Chapter 2: Terms and definitions
Chapter 3: Applicability, authorities, and repercussions
Chapter 4: Key GDPR requirements
Chapter 5: EU-U.S. Privacy Shield
Chapter 6: Other points for controllers to consider
Chapter 7: Complying with the Regulation
Chapter 8: Index of the GDPR
Appendix 1: National data protection authorities
Appendix 2: EU GDPR resources
Further reading