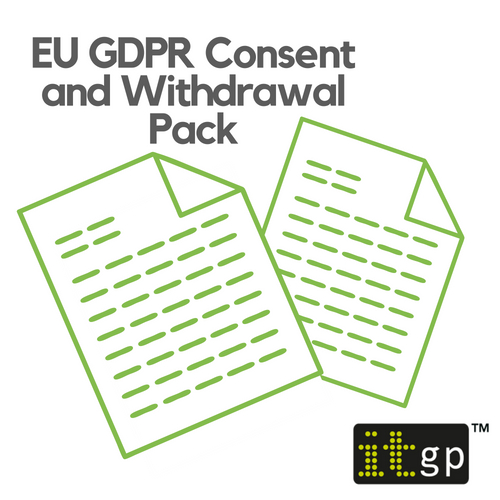 EU GDPR Consent and Withdrawal Pack
Details
SKU: 4967
Format: Toolkit
ISBN13: 9781787780156
BIC: Data protection law, COMPUTER SECURITY, COMPUTING & INFORMATION TECHNOLOGY, Privacy & data protection, COMPUTING: GENERAL
BISAC: LAW / Computer & Internet, COMPUTERS / Security / General, COMPUTERS / General
Published: 19 Jun 2018
Availability: In Stock

Description
Under the General Data Protection Regulation (GDPR), data subject consent is a critical area that is easy to misunderstand and mismanage. Ensure that you secure and manage consent for processing any data subject's personal information with ITGP's Subject Consent and Withdrawal Pack.
Our Consent pack includes four ready-made forms for you to send to your data subjects to ask for approval, and two procedures to help you implement the processes to receive and withdraw consent. An effective consent and withdrawal process is essential to make sure you have a complete record of who has provided and withdrawn consent for you to process their data.
What is included?
Data Subject Consent Form and Parental Consent Form
Tailor these forms so you can send them to your data subjects to get the consent that you need under the GDPR. These forms include guidance explaining how to customise them to suit your needs. For data subjects under a certain age (which can vary between countries), the parental consent form can be used to gather consent.
Data Subject Consent Withdrawal Form and Parental Consent Withdrawal Form
As part of the GDPR, a data subject also needs to be able to withdraw their consent at any time. These forms provide a method of allowing your data subjects to withdraw their consent, including parental consent.
Consent Procedure and Withdrawal of Consent Procedure
Written by our expert GDPR practitioners, the consent and withdrawal of consent procedures will guide you through receiving and withdrawing consent from data subjects and children.
Please note:
The Subject Consent and Withdrawal Pack is available for immediate download. After purchasing, you will receive an email with a download link.
This pack is suitable for organisations of all sizes and types in any location.
If the template is updated within 12 months of your purchase, we will send you the newest version for free.
Updates based on new data protection legislation are not included.
This product is non-refundable.
Reviews