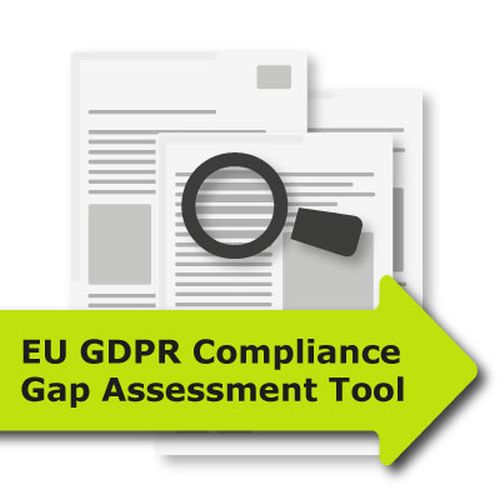 EU GDPR Compliance Gap Assessment Tool
Details
SKU: 4834
Format: Toolkit
ISBN13: 9781849289375
BIC: Data protection law, COMPUTING: GENERAL
BISAC: LAW / Computer & Internet, COMPUTERS / General
Published: 20 Mar 2017
Availability: In Stock

Description
This EU GDPR Compliance Gap Assessment Tool has been created to help organisations kick-start their GDPR compliance project by assessing their current stance against the GDPR, helping them clearly establish areas for development, and plan and prioritise their project effectively.
The tool contains two tabs: one asks a series of questions about the GDPR to help establish the next steps for compliance with the Regulation; the other will help to identify processes that involve personal data. This is carried out as required by the Regulation.
The questions are grouped into sections:
Governance
Risk management
GDPR project
DPO
Roles and responsibilities
Scope of compliance
Process analysis
PIMS
ISMS, 'integrity and confidentiality' (Principle 6) and Article 32
Rights of data subjects
Answering these questions provides organisations with a high-level, colour -coded analysis of their state of compliance.
This tool is in Excel format and will work in any Microsoft environment; it does not need to be installed like software and it does not depend on complex databases. It relies on human involvement and basic knowledge of the GDPR.
It was not designed for conducting a detailed and granular compliance assessment.
Table Of Contents
1. Governance
2. Risk management
3. GDPR project
4. DPO
5. Roles and responsibilities
6. Scope of compliance
7. Process analysis
8. PIMS
9. ISMS, 'integrity and confidentiality' (Principle 6) and Article 32
10. Rights of data subjects
Reviews