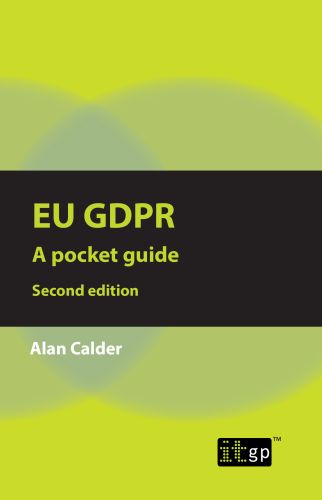 EU GDPR - A pocket guide, second edition
Details
SKU: 4991
Format: Softcover
ISBN13: 9781787780644
BIC: Data protection law, COMPUTER SECURITY, COMPUTING & INFORMATION TECHNOLOGY, Privacy & data protection, COMPUTING: GENERAL
BISAC: LAW / Computer & Internet, COMPUTERS / Security / General, COMPUTERS / General
Pages: 96
Published: 23 Oct 2018
Availability: In Stock

Description
EU GDPR – A Pocket Guide, second edition provides an accessible overview of the changes you need to make in your organisation to comply with the new law. 
The EU General Data Protection Regulation unifies data protection across the EU. It applies to every organisation in the world that does business with EU residents.
The Regulation introduces a number of key changes for organisations – and the change from DPA compliance to GDPR compliance is a complex one. 
New for the second edition:
Updated to take into account the latest guidance from WP29 and ICO.
Improved guidance around related laws such as the NIS Directive and the future ePrivacy Regulation.
 This pocket guide also sets out:
A brief history of data protection and national data protection laws in the EU (such as the UK DPA, German BDSG and French LIL).
The terms and definitions used in the GDPR, including explanations.
The key requirements of the GDPR
How to comply with the Regulation
A full index of the Regulation, enabling you to find relevant Articles quickly and easily.
This guide is the ideal resource for anyone wanting a clear, concise primer on the EU GDPR. Buy your copy today. 
Reviews
Table Of Contents
1: A Brief History of Data Protection
2: Terms and Definitions
3: The Regulation
4: Complying with the Regulation
5: Index of the Regulation
6: EU GDPR Resources