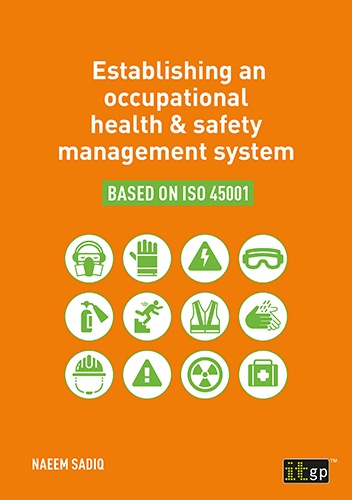 Establishing an occupational health & safety management system based on ISO 45001
Details
SKU: 5403
Format: Softcover
ISBN13: 9781787781405
BIC: Occupational / industrial health & safety, Health & safety aspects of computing, Industrial relations & safety
BISAC: TECHNOLOGY & ENGINEERING / Industrial Health & Safety, POLITICAL SCIENCE / Labor & Industrial Relations, COMPUTERS / Social Aspects, BUSINESS & ECONOMICS / Labor / General
Pages: 276
Published: 12 Sep 2019
Availability: In Stock

Description
Improve employee safety, reduce workplace incidents and create better, safer working conditions
According to a report from the ILO (International Labour Organization), there are more than 2.78 million deaths and 374 million non-fatal injuries and illnesses per year as a result of occupational accidents or work-related diseases. The ILO estimates that the annual cost to the global economy is $3 trillion (about £2.36 trillion), and in the UK alone it's estimated that 30.7 million working days were lost in 2017/2018 as a result of work-related illness and injury. Can your organisation afford to contribute to these statistics?
How can ISO 45001 help?
ISO 45001:2018, Occupational health and safety management systems – Requirements with guidance for use, is the international standard for creating and maintaining an OHSMS (occupational health and safety management system). The Standard provides guidance and an effective set of processes for improving worker safety and is designed to help organisations of all sizes and anywhere in the world reduce workplace injuries and illnesses.
Creating and maintaining an OHSMS demonstrates employer due diligence and reasonable care, reduces workplace incidents, improves employee health, reduces absenteeism, increases productivity and creates a safer working environment for employees.
Establishing an OHSMS based on ISO 45001
This book provides a comprehensive explanation of the detailed requirements of ISO 45001. The author draws out key parts of the Standard, which can often be confusing for non-experts or newcomers to ISO standards, and explains what they mean and how to comply.
Professionals involved in any aspect of an OHSMS, including development, documentation, implementation, training, supervision or auditing, will find the book useful. Equally, those with no background in the subject will find it a valuable resource. The book:
Follows a hands-on and step-by-step approach to building an OHSMS;
Explains the purpose and the requirements of each clause of ISO 45001;
Describes how the requirements can be fulfilled by an organisation;
Provides definitions of the roles and responsibilities of leadership; and
Includes numerous examples, suggestions, sample forms and procedures.
Suitable for HSQE professionals, project managers, lead implementers and senior management, this book demystifies the ISO 45001 Standard by presenting its contents and implementation methodology in a simple, user-friendly and easily understandable manner. Consultants, trainers and auditors will also find it a useful reference guide.
Successfully establish an OHSMS and proactively reduce injury and ill-health in your organisation – buy this book today.
Reviews
Table of contents
Chapter 1: ISO 45001
Chapter 2: Context of the organisation
Chapter 3: Leadership
Chapter 4: Organisational roles and worker participation
Chapter 5: Planning
Chapter 6: Determination of legal and other requirements
Chapter 7: Planning actions
Chapter 8: OH&S objectives and their planning
Chapter 9: Competence and awareness
Chapter 10: Communication
Chapter 11: Documented information
Chapter 12: Operational planning and control
Chapter 13: Procurement
Chapter 14: Emergency preparedness and response
Chapter 15: Monitoring, measuring, analysis and performance evaluation
Chapter 16: Internal OHSMS audit
Chapter 17: OHSMS review
Chapter 18: Continual improvement of the OHSMS
Chapter 19: Continual improvement
Chapter 20: Beyond ISO 45001
Appendix A: A sample risk assessment for a small warehouse
Appendix B: A 3x3 risk matrix for severity and likelihood
Appendix C: A 5x5 risk matrix for severity and likelihood
Appendix D: A 6x6 risk matrix for severity and likelihood
Appendix E: A sample hazard identification and risk assessment procedure
Appendix F: HAZOP
Appendix G: A sample procedure for identifying and managing occupational health hazards
Appendix H: A sample programme for occupational health surveillance
Appendix I: An example of 'planning' to achieve OH&S objectives
Appendix J: A sample procedure for competence, training and awareness
Appendix K: Behaviour-based safety
Appendix L: A sample procedure for critical pressure equipment
Appendix M: A sample OH&S measuring and monitoring plan
Appendix N: A sample of an OHSMS review input report
Appendix O: A sample corrective action request form
Index
Further reading