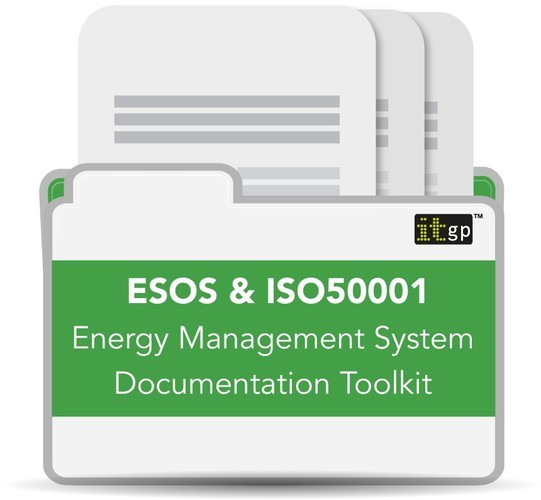 ESOS & ISO50001 Energy Management System Documentation Toolkit
Details
SKU: 4579
Format: Toolkit
ISBN13: 9781849287456
BIC: Environmental policy and protocols, Environmental factors
BISAC: POLITICAL SCIENCE / Public Policy / Environmental Policy, MEDICAL / Public Health
Published: 13 May 2015
Availability: In Stock

Description
The official status of ISO 50001:2011 is 'withdrawn'. A three-year migration period is currently active until 21 August 2021. The ISO 50001:2018 Toolkit is available here.
Is your organisation UK-based? Do you employ more than 250 people and/or have an annual turnover in excess of £38 million?
If so, you are legally obliged to implement a number of energy efficiency measures (PDF) and carry out an ESOS assessment every four years to confirm your compliance.
Alternatively, you can implement an energy management system (EnMS) compliant with and certified to ISO 50001, the international standard for energy management systems.
Our experienced management system consultants have designed the ESOS & ISO 50001 Energy Management System Documentation Toolkit to help organisations of all types and sizes to quickly and easily implement an EnMS that complies with the international standard ISO 50001 and the ESOS Regulations 2014.
The toolkit contains fully customisable document templates that managers can use to produce their own tailored versions of the documentation necessary to implement an ISO 50001-compliant EnMS – as well as expert guidance and 12 months' support.
This invaluable resource will save you considerable time and money implementing a best-practice EnMS that can be fully integrated with your other management systems (e.g. those based on ISO 27001, ISO 9001 or ISO 14001), streamlining your approach to compliance.
Make sure this toolkit is right for your organisation. Download free samples with a free demo! Download now
Accelerate your energy management system (EnMS) implementation project and comply with the ESOS regulations the easy way with this expert guidance. Download your toolkit now. 
Table Of Contents
ESOS Documentation
ESOS Notification Procedure ESOS DOC 4.4
ESOS Declaration Record ESOS REC 4.4

Energy Procedures
Legislations, Regulation and Other Requirements Procedure EnMS DOC 4.4.2 Energy Review, Baseline, Performance Indicators, Objectives, Targets and Management Action Plans EnMS DOC 4.4.3
Training and Development Procedure EnMS DOC 4.5.2A
New Starters Procedure EnMS DOC 4.5.2B
Communication Procedure EnMS DOC 4.5.3
Protection and Control of Documentation Procedure EnMS DOC 4.5.4.2 Operational Control Procedure EnMS DOC 4.5.5
Monitoring and Measurement Procedure EnMS DOC 4.6.1
Internal Audit Procedure EnMS DOC 4.6.3
Corrective and Preventive Actions Procedure EnMS DOC 4.6.4A
Control of Non Conformance Procedure EnMS DOC 4.6.4B
Protection and Control of Records Procedure EnMS DOC 4.6.5
Management Review Procedure EnMS DOC 4.7

Energy Work Instructions
Recycling Work Instruction EnMS DOC 4.5.5A
Printing Work Instruction EnMS DOC 4.5.5B
Waste Management Work Instruction EnMS DOC 4.5.5C
Energy Management Work Instruction EnMS DOC 4.5.5D
Energy Forms and Records
Legislations, Regulation and Other Requirements Record EnMS REC 4.4.2
Energy Review Workbook EnMS REC 4.4.3
Objectives Programme Form EnMS REC 4.4.6
Schedule of Energy Improvements Record EnMS REC 4.5.1
Job Description EnMS REC 4.5.2A
Induction Checklist EnMS REC 4.5.2B
Training Record EnMS REC 4.5.2C
Training Matrix Record EnMS REC 4.5.2D
Communications Register EnMS REC 4.5.3
Master List of Procedures EnMS REC 4.5.4.2
Internal Audit Schedule EnMS REC 4.6.3A
Internal Audit Report Lead EnMS REC 4.6.3B
Non Conformance Report EnMS REC 4.6.4A
Corrective Action / Preventive Action Report EnMS REC 4.6.4B
Non Conformance Report Log EnMS REC 4.6.4C
Master List of Records EnMS REC 4.6.5
Management Review Record EnMS REC 4.7 4.7
Reviews