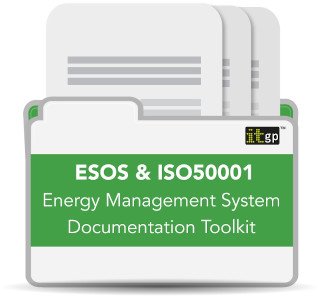 Details
SKU: 5493
Format: Cloud Annual Subscription
ISBN13: 9781787781832

Published: 01 Nov 2021
Availability: In Stock

ex vat
Annual subscription thereafter
£75.00
ex vat
Overview
Tackle your energy challenges and reduce your environmental impact with ISO 50001
Is your organisation UK-based? Do you employ more than 250 people and/or have an annual turnover in excess of £38 million? If so, you are legally obliged to implement a number of energy efficiency measures and carry out an ESOS (Energy Savings Opportunity Scheme) assessment every four years to confirm your compliance.
The most efficient way to comply with ESOS is by certifying to ISO 50001, the international standard for improving energy performance. It provides a framework for managing energy performance and addressing energy costs. Complying with ISO 50001 ensures your organisation can:
Meet legal and contractual energy compliance requirements;
Save money by managing energy more efficiently; and
Demonstrate a commitment to improved energy performance.
Even if you don't have to comply with ESOS, climate change is an existential threat to humanity and should be on every board's agenda. ISO 50001 can help organisations conserve resources, reduce their carbon footprint and combat climate change.  
Our experienced management system consultants have designed the ISO 50001 Toolkit to help organisations of all types and sizes quickly and easily implement an EnMS (energy management system) that complies with ISO 50001 and the ESOS Regulations 2014.
How does our ESOS & ISO 50001 Toolkit help you comply?
Discover where you sit on the compliance scale
Measure your current level of ISO 50001 compliance by assessing your energy management system and identify the steps needed to achieve compliance.
Implement your energy management system with ease
Apply the PDCA Cycle Guidance to help develop, manage and implement your energy management system.
Get a clear overview of your energy usage
Measure, record and monitor your energy consumption using the Energy Review Plan and Data tool. Use the data gathered to set targets to reduce usage, conserve resources and cut your carbon footprint.
Demonstrate your commitment to improved energy consumption
Use the Objectives, Targets and Action Plans document to record your goals and how you plan to achieve and implement them. You can also document your evaluation methods and assign tasks to teams or individuals.
Meet your legal and contractual requirements
Record completion dates and ensure your documentation is kept up to date by adding review due dates with the Document Management Tool and Responsibilities Map. You can also assign tasks and record once they have been approved.
Anytime access with DocumentKits
Access your documentation anywhere, at any time through the online DocumentKits platform, ensuring your organisation can always access and edit them, regardless of operating system.
Customise the templates with your company logo and automatically populate a number of fields, including roles and documentation classification, speeding up your documentation process.
Reduce duplication and effort by easily integrating your documentation with other toolkits on the platform.
Tooltips and guidance notes provide definitions and expert instruction so you can easily complete the customisable free-text sections.
Easily extract files in PDF format to save on shared servers, intranets or wherever you need them.
Collaborate with team members and share the workload with this Cloud-based platform, which includes access for up to ten users per year.
Unlimited support for account set-up and guidance using the platform.
---
Why choose IT Governance Publishing?
Our ESOS & ISO 50001 Toolkit has been developed by industry experts, so you can be sure your documentation is accurate and fully compliant with the Standard.
Reduce your implementation costs and time spent generating your ISO 50001 documentation with instant access to the Cloud-based DocumentKits platform, compatible with any device.
Trust the experts and shop with confidence like the 9,000 organisations that are already using our toolkits.
The de facto standard for toolkits – we pioneered the toolkit for BS 7799 (the forerunner to ISO 27001) implementation and have rolled out the framework to multiple standards and regulations.
We are the experts – all of our documentation toolkits are designed and written by subject matter experts, ensuring that our customers benefit from real-world best practice.
We listen – customer feedback is vital to product development, helping us to lead the market and drive customer satisfaction. All DocumentKits toolkits are continually updated and modified.
---
Companies that have purchased our toolkits
Benefits
Why choose opt for our ESOS & ISO 50001 Toolkit?
Comply without breaking the bank
A fast and cost-effective route to compliance without the added expense of consultancy.
Audit trail
Record actions and measure improvements for certification and audits.
Guaranteed compliance
Directly aligned to the clauses and controls of ISO 50001, the toolkit ensures complete coverage of the Standard, while helping you meet your ESOS requirements.
Record progress
Keep track of task progress and outstanding actions in the downloadable Excel toolkit dashboard. 
Ensure you're on the right track
The comprehensive toolkit manual guides you through each section of ISO 50001 and links directly to the corresponding documents in the toolkit.
Ongoing compliance
We continually update and improve our toolkits based on customer feedback to ensure simple, straightforward implementation.
What's included
ESOS & ISO 50001 Toolkit contents
ISO 50001 ENMS Manual
ENMS Guidelines
ISO 50001 Documentation Dashboard
PDCA Cycle Guidance
ESOS documents
About ESOS
ESOS Notification Procedure
ESOS Compliance Declaration
Context of the Organisation Procedure
Interested Parties Procedure
Scope Statement
Policy Statement
Document Management Tool and Responsibilities Map
Risk Management Procedure
Risk and Opportunity Register
Energy Objectives Procedure
Objectives, Targets and Action Plans
Energy Review Procedure
Energy Review Plan and Data
Competence Procedure
Competence Matrix
Hiring and New Starter Procedure
Induction Checklist
Training and Development Procedure
Awareness Procedure
Communications Procedure
Communications Record
Suggestion Form
Suggestion Record
Document Control Procedure
Operational Control Procedure
Design Log
Procurement Procedure
Monitoring and Measurement Procedure
Internal Audit Procedure
Internal Audit Schedule
Audit Lead Sheet
Management Review Procedure
Management Review Record
Nonconformity and Corrective Action Procedure
Nonconformance Report
Nonconformance Report Log
Continual Improvement Procedure
Basic Checklist
Meeting Agenda
Meeting Agenda: Initial Board Meeting
Meeting Agenda: Second Board Meeting
Meeting Minutes
Meeting Minutes: Initial Board Meeting
Meeting Minutes: Second Board Meeting
Basic Procedure
Basic Schedule
Basic Service Level Agreement
Basic Work Instruction
Technical & FAQs
Technical information
This is an annual subscription product; however you can cancel at any time. (T&Cs apply)
All our documentation toolkits are electronically fulfilled and accessible via DocumentKits, our online platform.
Your subscription includes access for up to ten users.
The DocumentKits platform is compatible with all devices, operating systems and applications.
You will need to use the latest version of your chosen web browser (e.g. Chrome, Edge, Firefox or Internet Explorer).
---
FAQs
The toolkit files are accessible via DocumentKits, our online platform, within which you can view and customise the templates in line with your organisation's policies, processes and procedures. Tools and documentation dashboards, where provided, will be in downloadable Excel format, and guidance documents are provided as downloadable PDFs. The customised toolkit documents can be downloaded in PDF format.
Our documentation toolkits are suitable for organisations of any type or size and in any sector, and contain the necessary documentation templates and tools for your implementation project. While some document templates may not initially be relevant within the scope of your project, they may prove valuable over time as your business grows.
You will be purchasing a single subscription to the toolkit for use in one organisation only. If you wish to use the toolkit in multiple companies, then please contact us here to discuss your requirements.
No. The toolkit is accessible via DocumentKits, our online platform, which runs in a web browser.
All documentation toolkits are electronically fulfilled. Once you purchase the toolkit, you will be taken to a web page and asked to enter some basic information about your organisation to allow the toolkit to be configured within DocumentKits. You will also receive an email with your username and temporary password, with details on how to access the system.
The toolkits are not an out-of-the-box solution; depending on your implementation project, you will need to add details to the templates that match what your company does and what it should be doing. Compliance, management systems and certification projects are complex and require a lot more work than just documentation, so this should be considered when purchasing a toolkit.
Our documentation toolkits provide a framework for documenting your compliance with standards and regulations, with content and guidance written by experts. You will need to ensure the templates are edited to truly reflect the nature of your business and the environment within which it operates.
Our sister company, IT Governance Ltd, offers a wide range of packaged solutions to help you as much, or as little, as you need.
Yes – please do!
Our toolkits contain free-text areas where you are prompted to customise the information according to your organisation's own policies, procedures and records.
We provide unlimited support to help you set up your account, add contributors and customise the templates.
Our support service does not extend to consultancy and implementation advice. If you would further support you can contact us to discuss your requirements.
As documentation toolkits cannot be physically returned, we are unable to offer refunds.
For more information, please see our terms and conditions.
---
End-User DocumentKits Agreement
If you are thinking about purchasing a toolkit, please click here to review the end-user licence agreement for DocumentKits.
For more information, visit our DocumentKits FAQ page.
Reviews