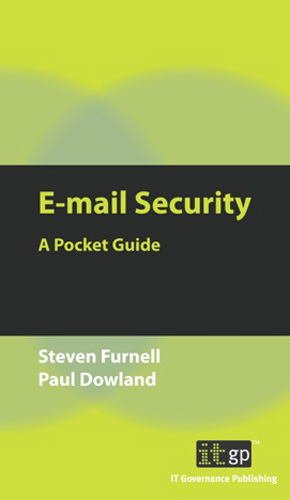 E-mail Security - A Pocket Guide
Details
SKU: 3197
Format: Softcover
ISBN13: 9781849280969
BIC: Electronic mail (email): professional, COMPUTER SECURITY
BISAC: COMPUTERS / Security / General, COMPUTERS / Business & Productivity Software / Email Clients
Pages: 108
Published: 30 Nov 2010
Availability: In Stock

Description
Your business relies on e-mail for its everyday dealings with partners, suppliers and customers. While e-mail is an invaluable form of communication, it also represents a potential threat to your information security. E-mail could become the means for criminals to install a virus or malicious software on your computer system and fraudsters will try to use e-mails to obtain sensitive information through phishing scams.
Safeguard email security
If you want to safeguard your company's ability to function, it is essential to have an effective e-mail security policy in place, and to ensure your staff understand the risks associated with e-mail.
This pocket guide will help businesses to address the most important issues. Its comprehensive approach covers both the technical and the managerial aspects of the subject, offering valuable insights for IT professionals, managers and executives, as well as for individual users of e-mail.
It covers the various types of threat to which e-mail may expose your organisation, and offers advice on how to counter social engineering by raising staff awareness.
Make your organisation's email secure. Buy this book today. 
Reviews
Table of contents
1: E-mail: Can we live without it?
2: E-mail threats and attacks
3: Securing the client
4: Safety in transit
5: Server side security
6: E-mail archiving
7: Ethereal e-mail
8: Risking our reputation?