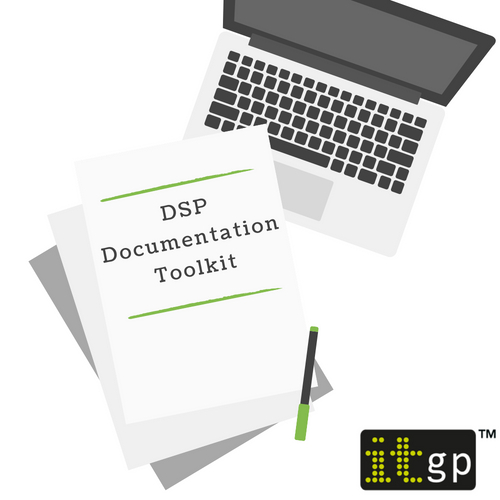 DSP Documentation Toolkit
Details
SKU: 4939
Format: Toolkit
ISBN13: 9781849289931
BIC: COMPUTING: GENERAL, COMPUTER SECURITY, COMPUTING & INFORMATION TECHNOLOGY
BISAC: COMPUTERS / General, COMPUTERS / Security / General
Published: 18 Jun 2018
Availability: InStock

Description
The DSP Documentation Toolkit from ITGP is the tool your organisation needs to aid completing and providing evidence for your Data Security and Protection submission. 
In April 2018 the new Data Security & Protection (DSP) Toolkit replaced the Information Governance (IG) Toolkit. The new toolkit is made up of ten data standards that all health and care organisations will be expected to implement. The new standards have been recommended by the National Data Guardian as part of a framework to assure that organisations are meeting their statutory obligations on data protection and data security.  
ITGP's DSP Documentation Toolkit was designed by experienced healthcare consultants. It provides customisable templates and tools as well as a comprehensive guidance document to help guide you through your DSP submission. 
Try ITGP's DSP Documentation Toolkit to save your organisation time and effort.
Please Note: 
The documentation templates are available for immediate download so you can take advantage of their contents straight away. After purchasing you will receive an email with a link to the templates.

 

The documentation templates set is suitable for organisations of all sizes, types and locations.

 

If the DSP Documentation Toolkit is updated within 12 months of purchase, we will send you the newest version for free.

 

12 months' support does not extend to consultancy or project implementation advice.

 

Updates based on new editions of the Toolkit are not included.

 

The documentation templates are compatible with Office 2016, 2013, 2010 & 2007. If you use one of these Office versions on a MAC, or are using an older version of Office, please contact us.
Make sure this toolkit is right for your organisation. Download free samples with a free demo! Download now
Table Of Contents
Top Level Documents:
Copyright Licence Agreement
DSP Documentation Toolkit Contents List
FAQs
Quick Start Guide
Toolkit Guidance DSP
UserInput
Project Tools:
Data Flow Mapping Tool
Document Control
Monitoring and Measurement Register
Staff Awareness Questionnaire
Administrative documents:
Confidentiality Agreement Template
Information Security Manager Job Description
Examples of Third-Party Contract Clauses
HR Security Policy
Information Classification, Handling and Exchange Procedure
Information Security Coordination
Leavers Checklist
Information Security Committee Meeting Agenda
Non-disclosure Agreement (NDA)
Outsourcing Procedure
Data Security and Protection Training Attendance Sheet
Blank Templates
Meeting Agenda
Meeting Agenda: Initial Board Meeting
Meeting Agenda: Second Board Meeting
Meeting Minutes
Meeting Minutes: Initial Board Meeting
Meeting Minutes: Second Board Meeting
Leadership Objective One: People
Data Standard One
Senior Information Risk Owner (SIRO) Job Description
Caldicott Guardian Job Description
Information Governance Policy
Data Protection and Confidentiality Policy
Data Quality Policy
Acceptable Use Policy
Information Security Guidance for Staff
Access Control Policy
Access Control Procedure
Retention of Records Procedure
Privacy Notice
Subject Access Request (SAR) Procedure
Subject Access Request (SAR) Record
Inventory of Information Hardware Assets
Inventory of Software Assets
Inventory of Information Assets
Inventory of Intangible Assets
Risk Management Framework
Risk Assessment Procedure
Audit and Review Procedure
Internal Audit Schedule
Audit Lead Report Sheet
Non-conformance and Observations Log
Data Protection Impact Assessment (DPIA) Procedure
Data Protection Impact Assessment (DPIA) Tool
Change Control Form
Physical Security and Media Handling Procedure
Risk Treatment Plan Work instruction
Risk Treatment Plan
Systems Auditing Procedure
Records Manager Job Description
Data Standard Two
Induction Checklist
Competence Procedure
Data Standard Three
Training Needs Analysis
Competence Matrix
Training and Development Procedure
Training Record
Leadership Objective Two: Process
Data Standard Four
User Access Management
Information Security Incident Management
Incident Report Log
Special Access Privileges
User Agreement
Data Standard Five
Refer to blank templates for meeting minutes and agenda templates
Data Standard Six
Incident Reporting Form
Personal Data Breach Notification Procedure
Policy Against Malware (Malware)
Control Against Malicious Code Procedure
Antivirus Software Work Instruction
Data Standard Seven
Information Security Continuity Planning
Information Security Continuity Plan
Information Security Continuity Testing
Information Security Continuity Risk Assessment
Leadership Objective Three: Technology
Data Standard Eight
Documented Procedures
Control of Operational Software
Change Control Procedure
Control of Software Installation
Software Updates and Patching Policy
Vulnerability Management
Data Standard Nine
Hardware and Systems Configuration Procedure
Standard Configuration for Computers and Networked Device
Monitoring and Measurement Policy
System Testing Policy
Management Review Record
Management Review Procedure
Data Standard Ten
Customers and Third Parties Procedure
Log of Third-Party Suppliers
Information Security Policy for Supplier Relationships
Information Security Procedure for Supplier Relationships
Reviews