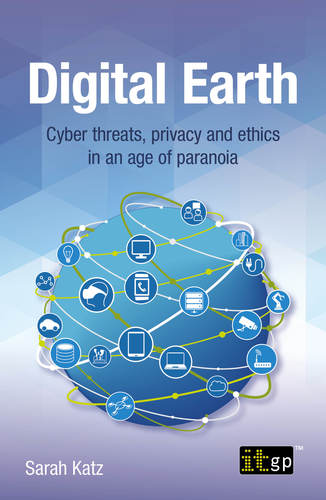 Digital Earth - Cyber threats, privacy and ethics in an age of paranoia
Details
SKU: 5826
Format: Softcover
ISBN13: 9781787783591
BIC: COMPUTER SECURITY, IT & Communications law, Criminal law & procedure
BISAC: LAW / Computer & Internet, COMPUTERS / Security / General, LAW / Communications, LAW / Criminal Law / General
Pages: 114
Published: 28 Apr 2022
Availability: In Stock

Description
Digital Earth – Cyber threats, privacy and ethics in an age of paranoia
Whether it's the next big ransomware attack or cyber terrorism, digital threats have evolved drastically in recent years. Issues surrounding phishing, misinformation, cyber terrorism, physical security, and privacy continue to arise for both individual users and large enterprises.
With technology an intrinsic part of our everyday lives, we need to be aware of digital threats, and be able to identify other threats such as phishing, ransomware, and spyware before they can wreak havoc in our professional or personal lives.
This book discusses the most prevalent technological threats that we face today. It is an accessible guide that highlights the most common cyber attacks, and explores data ethics and privacy in an age where we hold so much of our PII (personally identifiable information) online.
It covers cyber threats such as phishing, disinformation versus misinformation in a post-COVID-19 world, cyber terrorism, and the power of social media, and analyzes ever-evolving privacy concerns in response to technological advances. For example, does the use of drones by law enforcement offer us complete security or raise questions around the privacy of citizens?
The book focuses on:
The spike in phishing amid the COVID-19 pandemic
Cyber terrorism
The risks associated with social media
Whether drones are a search-and-rescue solution or the all-seeing eye in the sky
An accessible introduction to the most prevalent cyber threats in our current climate, this book discusses cyber terrorism, phishing, and ransomware attacks, and provides advice on how to mitigate such threats in our personal and professional lives.
This book offers a rational insight into technological threats that we will all encounter, and provides navigation in an increasingly technologically advanced world
Reviews
Table of contents
Introduction
Chapter 1: The spike in phishing amid the COVID-19 pandemic
Chapter 2: A glance at the history of phishing mitigation practices
Chapter 3: The hard truth – How little many users understand about identifying malicious emails
Chapter 4: Disinformation versus misinformation in a post-COVID world
Chapter 5: Cyber terrorism and the firepower of social media
Chapter 6: Drones – A search and rescue solution or the all-seeing eye in the sky?
Chapter 7: Tying it all together
Appendix A: Bibliography
Further reading