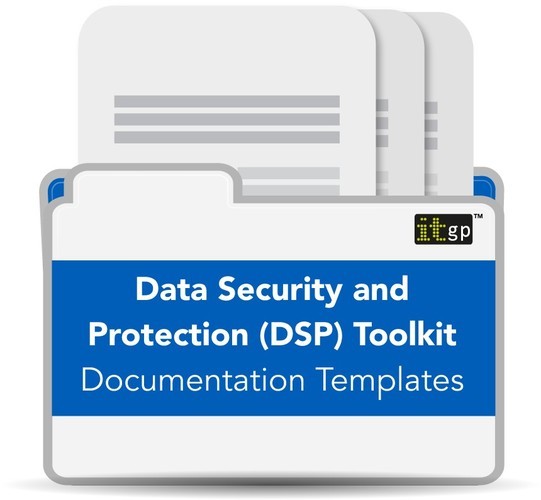 Data Security and Protection (DSP) Toolkit Documentation Templates
Details
SKU: 4939
Format: Toolkit
ISBN13: 9781849289931
BIC: COMPUTING: GENERAL, COMPUTER SECURITY, COMPUTING & INFORMATION TECHNOLOGY
BISAC: COMPUTERS / General, COMPUTERS / Security / General
Published: 18 Jun 2018
Availability: In Stock

Description
IMPORTANT NOTICE
The Data Security and Protection Toolkit Standard (DSPT) has been updated by the NHS for 2019-20. And on June 3rd, the NHS withdrew the previous version.
The new Toolkit is live and you can no longer publish against the old standard. Visit the NHS Toolkit website for further information.
Our healthcare specialists are reviewing the new requirements and adapting our documentation templates accordingly. If you are unclear about the changes or would like to speak to one of our team, please email us.
Speed up your DSP Toolkit submission. Use our tools and templates to gather the evidence that proves your compliance.
In April 2018, the Data Security and Protection (DSP) Toolkit replaced the Information Governance (IG) Toolkit as a requirement for all organisations with access to NHS patient data, including companies that supply products and services to healthcare providers. These organisations must complete an online submission to prove that they comply with the ten data security standards that make up the DSP Toolkit requirements.
ITGP's DSP Toolkit Documentation Templates provide a set of customisable documents that will enable you to quickly and easily complete your submission. 
Why choose the ITGP DSP Toolkit Documentation Templates?
Save time. Our customisable tools and templates will give you a head start developing your evidence – there's no need to create documentation from scratch.
Reduce the cost of your project. Our easy-to-use resources provide everything you need to gather the evidence yourself quickly and effectively.
Have confidence in your evidence. All of our documentation is fully compliant with the DSP Toolkit, and includes guidance notes to help you get things right first time
Focus on what you do best. Whether your organisation exists to treat patients or supply products and services to those that do, our documentation templates will guide you through your DSP Toolkit submission, giving you more time to focus on providing your core services.
Key features
Comprehensive coverage of the DSP Toolkit, with more than 80 documents, including tools, templates and a complete set of policies and procedures.
A detailed manual showing how the documents in the DSP Toolkit Documentation Templates link to the data standards in your submission.
Developed by industry experts who understand what you need to do to achieve compliance.
Detailed, practical guidance to help you avoid mistakes and ensure success.
Ensure you meet the submission deadline – buy our DSP Toolkit Documentation Templates today.
The documentation templates are compatible with Office 2016, 2013, 2010 and 2007. If you use a Mac®, an older version of Office or Office 365, please contact team@itgovernancepublishing.co.uk.
If the toolkit is updated within 12 months of purchase we'll send you the new version for free; please note that this does not include updates that are made as a result of changes to the data standards.
Table Of Contents
Top Level Documents:
Copyright Licence Agreement
DSP Documentation Toolkit Contents List
FAQs
Quick Start Guide
Toolkit Guidance DSP
UserInput
Project Tools:
Data Flow Mapping Tool
Document Control
Monitoring and Measurement Register
Staff Awareness Questionnaire
Administrative documents:
Confidentiality Agreement Template
Information Security Manager Job Description
Examples of Third-Party Contract Clauses
HR Security Policy
Information Classification, Handling and Exchange Procedure
Information Security Coordination
Leavers Checklist
Information Security Committee Meeting Agenda
Non-disclosure Agreement (NDA)
Outsourcing Procedure
Data Security and Protection Training Attendance Sheet
Blank Templates
Meeting Agenda
Meeting Agenda: Initial Board Meeting
Meeting Agenda: Second Board Meeting
Meeting Minutes
Meeting Minutes: Initial Board Meeting
Meeting Minutes: Second Board Meeting
Leadership Objective One: People
Data Standard One
Senior Information Risk Owner (SIRO) Job Description
Caldicott Guardian Job Description
Information Governance Policy
Data Protection and Confidentiality Policy
Data Quality Policy
Acceptable Use Policy
Information Security Guidance for Staff
Access Control Policy
Access Control Procedure
Retention of Records Procedure
Privacy Notice
Subject Access Request (SAR) Procedure
Subject Access Request (SAR) Record
Inventory of Information Hardware Assets
Inventory of Software Assets
Inventory of Information Assets
Inventory of Intangible Assets
Risk Management Framework
Risk Assessment Procedure
Audit and Review Procedure
Internal Audit Schedule
Audit Lead Report Sheet
Non-conformance and Observations Log
Data Protection Impact Assessment (DPIA) Procedure
Data Protection Impact Assessment (DPIA) Tool
Change Control Form
Physical Security and Media Handling Procedure
Risk Treatment Plan Work instruction
Risk Treatment Plan
Systems Auditing Procedure
Records Manager Job Description
Data Standard Two
Induction Checklist
Competence Procedure
Data Standard Three
Training Needs Analysis
Competence Matrix
Training and Development Procedure
Training Record
Leadership Objective Two: Process
Data Standard Four
User Access Management
Information Security Incident Management
Incident Report Log
Special Access Privileges
User Agreement
Data Standard Five
Refer to blank templates for meeting minutes and agenda templates
Data Standard Six
Incident Reporting Form
Personal Data Breach Notification Procedure
Policy Against Malware (Malware)
Control Against Malicious Code Procedure
Antivirus Software Work Instruction
Data Standard Seven
Information Security Continuity Planning
Information Security Continuity Plan
Information Security Continuity Testing
Information Security Continuity Risk Assessment
Leadership Objective Three: Technology
Data Standard Eight
Documented Procedures
Control of Operational Software
Change Control Procedure
Control of Software Installation
Software Updates and Patching Policy
Vulnerability Management
Data Standard Nine
Hardware and Systems Configuration Procedure
Standard Configuration for Computers and Networked Device
Monitoring and Measurement Policy
System Testing Policy
Management Review Record
Management Review Procedure
Data Standard Ten
Customers and Third Parties Procedure
Log of Third-Party Suppliers
Information Security Policy for Supplier Relationships
Information Security Procedure for Supplier Relationships
Reviews