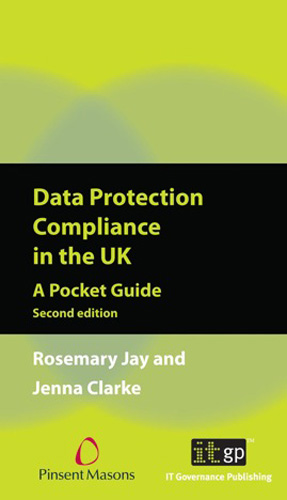 Description
Data Protection Compliance in the UK has been published to be an easy-read introduction for any employee required to support compliance with the data protection act. This concise guide covers:
UK and EU data protection regulations
The rights of individuals
The security obligations of organisation
Key definitions, terms and requirements
Practical compliance check-lists, covering the steps you must take to reach DPA compliance
Additional topics including IT monitoring and interception, enforcement provisions and penalties for non-compliance.
Data Protection Compliance in the UK is essential reading if you have a responsibility for the security of personal data, especially if you are a director, a manager or an IT professional.
The Information Commissioner's Office has powers to fine companies up to £500,000 for serious contraventions of the Data Protection Act. Make sure you know your responsibilities. 
Reviews
Table Of Contents
1: Introduction and EU Regulations
2: Understanding the Definitions
3: Notifying Processing with the Information Commissioner
4: What are the Rights of Individuals?
5: Understanding and Applying Data Protection Principles 1 to 6
6: Security Obligations and Data Processors
7: Transferring Data Overseas
8: Applying Exemptions
9: Marketing using Electronic Methods
10: IT Monitoring and Interception
11: Enforcement Provisions
12: Penalties for Non-compliance
13: Compliance Checklist for Staff