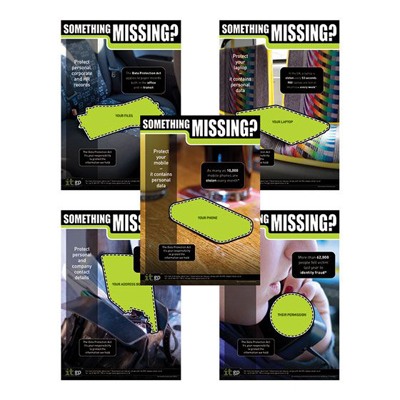 Data Protection Awareness Posters
Description
This range of posters is designed to be used as part of a general Data Protection Act awareness initiative inside all organisations pursuing Data Protection Act compliance, and in all security-conscious organisations.
The large, glossy and thought-provoking posters are an ideal resource for display in your office reception, main office, server room(s) or anywhere where your people can - and should - be reminded about data protection.
This product is the downloadable version of all five posters so you can print them at your convenience. 
Each set contains five posters, which communicate clearly with large visual images and shocking statistics.
Increase Staff Awareness, Comply with the DPA.
Table Of Contents
Poster 1: Personal data may not be disclosed without permission
Poster 2: Protect your mobile - it contains personal data
Poster 3: Protect personal and company contact details
Poster 4: Protect your laptop - it contains personal data
Poster 5: Protect personal, corporate and HR records.
Reviews