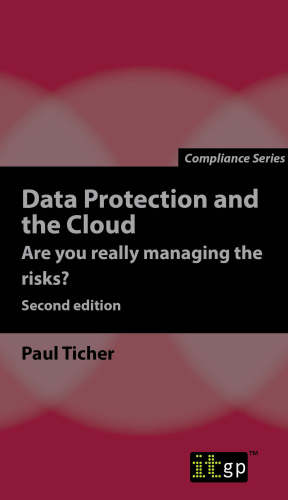 Data Protection and the Cloud - Are you really managing the risks? - Second edition
Details
SKU: 4982
Format: Softcover
ISBN13: 9781787780286
BIC: Cloud computing, Data protection law, Privacy & data protection
BISAC: LAW / Computer & Internet, COMPUTERS / Networking / General, COMPUTERS / Security / General, COMPUTERS / System Administration / Backup & Recovery, COMPUTERS / Security / Network Security, COMPUTERS / Distributed Systems / General
Pages: 80
Published: 06 Nov 2018
Availability: In Stock

Description
With a view to helping managers ask the right questions, Data Protection and the Cloud explains how you can effectively manage the risks associated with the Cloud and meet regulatory requirements. This book discusses:
The controller–processor relationship and what you should pay attention to;
How to mitigate security risks in the Cloud to comply with Article 32 of the EU GDPR (General Data Protection Regulation);
How to comply with Chapter V of the GDPR when transferring data to third countries; and
The implications of the NIS Directive (Directive on security of network and information systems) for Cloud providers.
One of the most dramatic recent developments in computing has been the rapid adoption of Cloud applications. According to the 2018 Bitglass Cloud Adoption Report, more than 81% of organisations have now adopted the Cloud in some form, compared with only 24% in 2014. And there are no signs that this is slowing down.
The GDPR was enforced on 25 May 2018, superseding the 1995 Data Protection Directive and all local implementations. Bringing data protection into the 21st century, the Regulation expands the rights of individuals, but also introduces new, stricter requirements for organisations. This pocket guide discusses the GDPR requirements relating to Cloud sourcing and the risks involved.
Supplemental material 
While most of the EU GDPR's requirements are broadly unchanged in the UK GDPR, the context is quite different and will have knock-on effects. You may need to update contracts regarding EU–UK data transfers, incorporate standard contractual clauses into existing agreements, and update your policies, processes and procedural documentation as a result of these changes.  
We have published a supplement that sets out specific extra or amended information for this pocket guide. Click here to download the supplement. 
Buy today and learn how to meet your data protection obligations when using Cloud services.
Reviews
Table of contents
Introduction
1. Background
2. Definitions
3. The data controller/data processor relationship
4. Security of processing
5. Mitigating security risks in the Cloud
6. Transfers to third countries
7. Data subjects' rights
8. Other legal and technical implications for Cloud contracts
9. Checklist