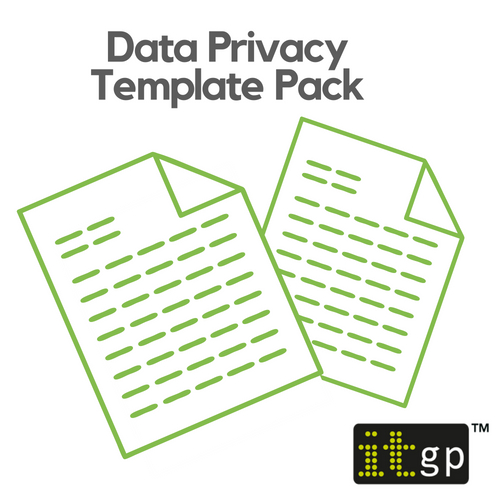 Data Privacy Template Pack
Details
SKU: 5019
Format: Toolkit
ISBN13: 9781787780835
BIC: Data protection law, COMPUTING & INFORMATION TECHNOLOGY
BISAC: LAW / Computer & Internet, COMPUTERS / General
Published: 03 Sep 2018
Availability: In Stock

Description
The Data Privacy Template Pack contains customisable documents that have been carefully selected from ITGP's range of market-leading toolkits to help schools develop the necessary policies and procedures to comply with the EU GDPR (General Data Protection Regulation).
All documents have been created by expert practitioners and include notes to guide you through the process.
The pack contains the following:
Data Protection Policy
This template will help you to set out your school's Data Protection Policy. It contains all relevant sections you'll need to consider, such as responsibilities and roles under the GDPR,  and data processing principles.
Subject Access Request form
This sample form can be used by data subjects to request access to the personal data you hold on them. It will help you understand the information you need them to provide before you can give them the requested data.
Subject Access Request Procedure
The template provides a framework for setting out your school's procedure for handling subject access requests. It will lead you through the details you need to consider, such as responsibilities, the types of identification you can accept, and guidance on dealing with requests from a child. 
Data Protection Impact Assessment Procedure
This document helps you develop the procedure for completing a DPIA (data protection impact assessment) for any projects that involve processing personal data or any activities that affect the processing of personal data and impact the privacy of data subjects.
Data Protection Officer job description
This template helps you develop a clear and comprehensive job description for your DPO (data protection officer), including a detailed list of responsibilities.
Personal Data Breach Notification Procedure
This template helps you establish the procedure for reporting and recording breaches. This procedure is vital in making sure that your school has the right processes in place to respond quickly and appropriately to any breaches.
Bring Your Own Device (BYOD) User Agreement
This document enables you to ensure that any staff members who use personal devices, including tablets and smartphones, to access the school's data are aware of and agree to comply with all relevant policies. 
The Data Privacy Template Pack is available to order online for immediate download. After purchasing, you will receive an email with a download link.
The product contains macros – this will save you time as information such as your school's name and logo will be populated across all documents after you have entered it once. Please note that this feature is not currently available to Mac users.
If a template is updated within 12 months of your purchase, we will send you the newest version at no extra cost.
The product is non-refundable.
Reviews