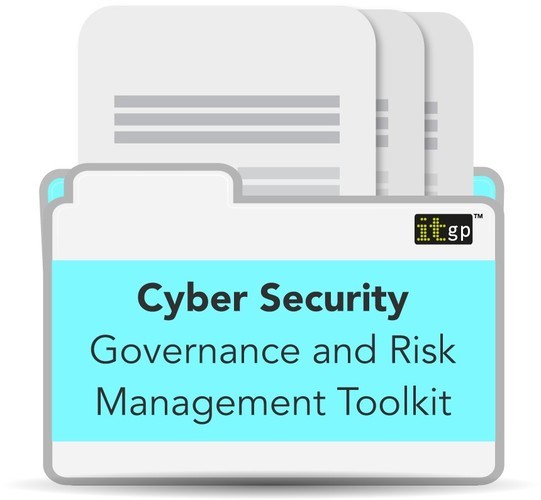 Cyber Security Governance and Risk Management Toolkit
Details
SKU: 4292
Format: Toolkit
ISBN13: 9781849286275
BIC: Corporate governance & responsibilities, COMPUTER SECURITY
BISAC: BUSINESS & ECONOMICS / Corporate Governance, COMPUTERS / Security / General
Published: 03 Jun 2013
Availability: In Stock

Description
This is the only toolkit to consolidate the advice from the five leading approaches to managing cyber risk into a single, robust framework, and is made up of:
ISO27001: 2013 ISMS Documentation Toolkit - updated to the latest version of ISO27001, this documentation will enable you to achieve external certification.
Independently developed Cyber Security Documentation – offering the guidance you need to put in place effective processes to achieve cyber resilience.
Documentation drawing on PAS 555, BIS Ten Steps, Cloud Controls Matrix and ISO27032 – extending the controls contained in ISO27001, and enhances the benefits of implementing an ISO27001 ISMS.
Cyber Security Framework Matrix – efficiently mapping the five separate approaches to a single comprehensive, robust, framework.
Bring Your Own Device (BYOD) Toolkit - ISO27001: 2013 compliant – updated to the latest version of ISO27001, these templates will enable your organisation to benefit from improved productivity, reduced capital expenditure and a better work life balance for employees.
Implement a robust cyber security framework. Download your toolkit today. 
Table of contents
Top level documents
Quick Start Guide: getting started and functionality
Cyber Security Governance & Risk Management Guidelines
Information Security Manual
User Input worksheet
Guidance on integrating documents with vsRisk: Risk Assessment Tool
BYOD Documents
BYOD Policy Template                                                   BYOD DOC 5.2a
Acceptable Use Policy                                                   BYOD DOC 8.1.3a
User Agreement                                                           BYOD DOC 9.2.1b
Physical Security                                                          BYOD DOC 11.1.2a
Approved Devices                                                         BYOD REC 6.2a
Unapproved Devices                                                     BYOD REC 6.2b
Cyber Security Documents
Governance of Cyber Security                                       CSEC DOC 1.1
Owner of Cyber Security Job Description                        CSEC DOC 1.2
Policy Against Social Engineering                                   CESC DOC 1.3
Information Risk Management Review Procedure            CSEC DOC 3.1
Content Filtering Policy                                                 CSEC DOC 4.2
Competency Development                                            CSEC DOC 7.4
Hardware Port Security Procedure                                 CSEC DOC 9.1
Standard Configuration                                                CSEC DOC 9.13
Hardware Acquisition Procedure                                    CSEC DOC 12.1
Software Updates and Patching Policy                            CSEC DOC 12.7a
Information Sharing Networks                                      CSEC DOC 13.6
Web Application Security                                              CSEC DOC 14.3
End User Agreement                                                    CSEC DOC 14.4
Cyber Security Framework Matrix                                 
Guidance for updating ISMS Documentation                            
Corporate Risk Register                                                CSEC REC 2.1
Blacklist                                                                      CSEC REC 4.2a
Whitelist                                                                      CSEC REC 4.2b
Capability Register                                                       CSEC REC 7.4a
Cyber Security Competency Report                                CSEC REC 13.6a
ISO 27001:2013 Documents
Project Tools
ISMS Overview
ISMS Guidelines
ISO27001: 2013 and ISO 27002:2013 Gap Analysis Tool
ISO27001 Implementation Manager
ISO27001: 2013 Documentation Structure
ISO27001: 2013 Documentation Dashboard
ISO27001 requirements vs documents & controls vs documents 
Information Security Management System
Section 4 – Context of Organisation
Context of the Organisation                                          MSS DOC 4.1
Identification of Interested Parties Procedure                 MSS DOC 4.2
Legislation and Regulation                                            MSS REC 4.2
Scope Statement                                                         MSS REC 4.3
Section 5 – Leadership
Integrated Management System Policy                          MSS DOC 5.2
Information Security Policy                                           ISMS DOC 5.2
Roles and Responsibilities Document Management Tool   ISMS REC 5.3
Section 6 - Planning
Risk Management Procedure                                         MSS DOC 6.1
ISMS Plan                                                                   ISMS DOC 6
Information Security Objectives and Planning                 ISMS DOC 6.2
Information Security Objectives                                    ISMS REC 6.2
Risk Management Framework                                       RM-ISMS DOC 6.1.1
Risk Assessment Procedure                                          RM-ISMS DOC 6.1.2
Risk Assessment Tool                                                   RM-ISMS DOC 6.1.2a
Statement of Applicability Work Instruction                    RM-ISMS DOC 6.1.3d
Statement of Applicability Tool                                      RM-ISMS SoA Tool
Risk Treatment Plan                                                     RM-ISMS REC 6.1.3
Risk Management:
Control A6 – Organisation of information security
Contact with Authorities                                          ISMS-C DOC 6.1.3
Notebook Computer Security                                   ISMS-C DOC 6.2.1
Telework Security                                                   ISMS-C DOC 6.2.2
Teleworker User Agreement                                    ISMS-C DOC 6.2.2a
Schedule                                                               ISMS-C REC 6.1.3
Teleworker Checklist                                               ISMS-C REC 6.2.2b
Control A7 – Human resource security
HR Department Requirements                                 ISMS-C DOC 7.1
Personnel Screening Requirements                          ISMS-C DOC 7.1.1 Employee Termination                                            ISMS-C DOC 7.3.1
Termination Checklist                                             ISMS-C REC 7.3.1
Control A8 – Asset management
Asset Inventory & Ownership                                  ISMS-C DOC 8.1.1
Internet Acceptable Use Policy                                ISMS-C DOC 8.1.3
Rules of Email Use                                                 ISMS-C DOC 8.1.3a
Email Box Control                                                  ISMS-C DOC 8.1.3b
Postal Services                                                      ISMS-C DOC 8.1.3c
Voicemail                                                              ISMS-C DOC 8.1.3d
Fax Machine                                                          ISMS-C DOC 8.1.3e
Photocopiers                                                          ISMS-C DOC 8.1.3f
Information Security Classification                           ISMS-C DOC 8.2
Media & Handling of Information                             ISMS-C DOC 8.3
Information Hardware Assets                                  ISMS-C REC 8.1.1
Software Log                                                         ISMS-C REC 8.1.1a Information Assets Database                                  ISMS-C REC 8.1.1b
Intangible Assets                                                   ISMS-C REC 8.1.1c
Information Assets for Removal                               ISMS-C REC 8.3.1
Control A9 – Access control
Access Control Policy                                             ISMS-C DOC 9.1.1
Access Control Rules & Rights                                 ISMS-C DOC 9.1.2
Individual User Agreement                                      ISMS-C DOC 9.2.1a
User Access Management                                        ISMS-C DOC 9.2.3
Username Administration                                        ISMS-C DOC 9.2.3a
Wireless User Addendum                                         ISMS-C DOC 9.2.3b
Mobile Phone Addendum                                         ISMS-C DOC 9.2.3c
Secure Logon                                                         ISMS-C DOC 9.4.2
Use of System Utilities                                            ISMS-C DOC 9.4.4
User Deletion Request                                            ISMS-C REC 9.2.1
User Replacement Password Requirement                ISMS-C REC 9.4.2
Control A10 – Cryptography
Cryptographic Key Management                              ISMS-C DOC 10.1.2
Required Cryptographic Controls                             ISMS-C REC 10.1.1
Control A11 – Physical and environmental security
Physical and environmental security                         ISMS-C DOC 11.1.2
Fire Door Monitoring                                               ISMS-C DOC 11.1.2a
Fire Alarm Monitoring                                             ISMS-C DOC 11.1.2b
Burglar Alarm Monitoring                                        ISMS-C DOC 11.1.2c
Reception Area                                                      ISMS-C DOC 11.1.2d
Public Access                                                         ISMS-C DOC 11.1.6
Equipment Security                                                ISMS-C DOC 11.2.1
Fire Suppression                                                    ISMS-C DOC 11.2.1a
Air Conditioning                                                     ISMS-C DOC 11.2.1b
Standard Configuration                                           ISMS-C DOC 11.2.4
Removal of Information Security Assets                   ISMS-C DOC 11.2.5
Storage Media Disposal                                           ISMS-C DOC 11.2.7
Physical Perimeter Security                                     ISMS-C DOC 11.1.11
Information Security Assets for Disposal                  ISMS-C REC 11.2.7
Control A12 – Operations security
Documented Procedures                                         ISMS-C DOC 12.1.1
Control of Operational Software                               ISMS-C DOC 12.1.1a
Change Control Procedure                                       ISMS-C DOC 12.1.2
System Planning and Acceptance                             ISMS-C DOC 12.1.3
Operational Test and Development Environment       ISMS-C DOC 12.1.4
Policy Against Malware                                           ISMS-C DOC 12.2.1
Controls Against Malware                                        ISMS-C DOC 12.2.1a
Anti-Virus Software                                                ISMS-C DOC 12.2.1b
Backup Procedures                                                 ISMS-C DOC 12.3.1
Information Security Monitoring                              ISMS-C DOC 12.4.1
Software Installation                                              ISMS-C DOC 12.5.1
Vulnerability Management                                       ISMS-C DOC 12.6.1
System Auditing Procedure                                     ISMS-C DOC 12.7.1
Log of Change Request                                           ISMS-C REC 12.1.2a
Change Request Work Instruction                            ISMS-C REC 12.1.2
Audit Log Requirement                                           ISMS-C REC 12.7.1
Monitoring Requirement                                          ISMS-C REC 12.4.1
Administration and Operational Log                         ISMS-C REC 12.4.3
Control A13 – Communications security
Network Controls and Services                                ISMS-C DOC 13.1.1
Network Access Control Policy                                 ISMS-C DOC 13.1.3
Network Access Control Procedure                           ISMS-C DOC 13.1.3a
Telecommunications Procedure                                ISMS-C DOC 13.2.1
Confidentiality Agreements                                     ISMS-C DOC 13.2.4
Control A14 – System acquisition, development and maintenance
eCommerce & Online Transactions                           ISMS-C DOC 14.1.2
Secure Development Policy                                     ISMS-C DOC 14.2.1
Secure Development Procedure                               ISMS-C DOC 14.2.1a
Control A15 – Supplier relationships
Information Security Policy for Supplier Relationships   ISMS-C DOC 15.1.1
Third Party Service Contracts                                     ISMS-C DOC 15.1.2
External Parties                                                        ISMS-C DOC 15.2.2
Control A16 – Information security incident management
Reporting the Information Security Weaknesses & Events   ISMS-C DOC 16.1.2-3
Responding to Information Security Reports             ISMS-C DOC 16.1.5
Collection of Evidence                                             ISMS-C DOC 16.1.7
Information Security Event Report                           ISMS-C REC 16.1.2-3a
Information Security Weaknesses & Events Record   ISMS-C REC 16.1.2-3b
Control A17 – Information security aspects of business continuity management
Information Security Continuity Planning                  ISMS-C DOC 17.1.1
Information Security Continuity Plan                        ISMS-C DOC 17.1.1a
Information Security Risk Assessment                     ISMS-C DOC 17.1.2
Information Security Continuity Testing                   ISMS-C DOC 17.1.3
Control A18 - Compliance
Intellectual Property Rights                                     ISMS-C DOC 18.1.2a
IPR Compliance                                                      ISMS-C DOC 18.1.2b
Control of Records                                                  ISMS-C DOC 18.1.3
Retention of Records                                              ISMS-C DOC 18.1.3a
Data Protection & privacy                                        ISMS-C DOC 18.1.4
Organisational Privacy                                            ISMS-C DOC 18.1.4a
Terms and Conditions of Website Use                      ISMS-C DOC 18.1.4b
Internal Independent Review                                  ISMS-C DOC 18.2.1
Compliance and Checking Procedure                        ISMS-C DOC 18.2.2
Obligations Schedule                                              ISMS-C REC 18.1.1
Section 7 - Support
Competence Procedure                                                 MSS DOC 7.2
Hiring and New Starters Procedure                                MSS DOC 7.2.2
Training and Development Procedure                             MSS DOC 7.2.3
Leavers Process                                                           MSS DOC 7.2.4
Awareness Procedure                                                    MSS DOC 7.3
Communication                                                            MSS DOC 7.4
Document Control                                                        MSS DOC 7.5.3
Information Security Manager Job Description                ISMS REC 7.2.1a
Head of Risk Job Description                                         ISMS REC 7.2.1b
Chief Information Security Officer Job Description           ISMS REC 7.2.1c
Competence Matrix                                                      MSS REC 7.2
Job Description                                                            MSS REC 7.2.1
Induction Checklist                                                       MSS REC 7.2.2
Training Record Matrix                                                  MSS REC 7.2.3
Master List of Procedures                                              MSS REC 7.5.3a
Master List of Records                                                   MSS REC 7.5.3b
Section 8 - Operation
Operational Control                                                      MSS DOC 8.1
Section 9 – Performance Evaluation
Performance Evaluation Procedure                                 MSS DOC 9.1
Internal Audit Procedure                                               MSS DOC 9.2
Management Review of the ISMS                                   MSS DOC 9.3
Monitoring and Measurement Register                            MSS REC 9.1
Internal Audit Schedule                                                 MSS REC 9.2.1
Internal Audit Report Lead Sheet                                   MSS REC 9.2.2
Management Review Record                                          MSS REC 9.3
Section 10 - Improvement
Non Conformity Procedure                                             MSS DOC 10.1
Continual Improvement                                                 MSS DOC 10.2
Corrective Action Report                                               MSS REC 10.1.1
Non Conformance Report                                              MSS REC 10.1.1a
Non Conformance Report Log                                        MSS REC 10.1.1b
Blank Templates
Basic Checklist
Basic Meeting Agenda
Initial Board Meeting Agenda
Second Board Meeting Agenda
Meeting Minutes
Initial Board Meeting Minutes
Second Board Meeting Minutes
Basic Procedure
Basic Schedule
Basic Service Level Agreement
Basic Work Instruction
Reviews