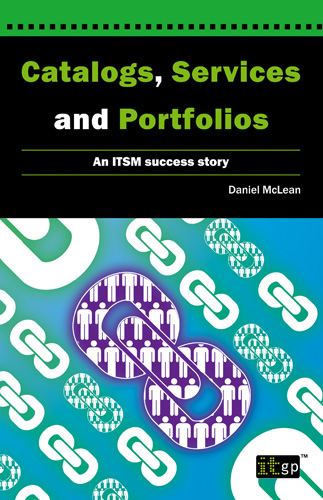 Catalogs, Services and Portfolios - An ITSM success story
Details
SKU: 3912
Format: Softcover
ISBN13: 9781849285674
BIC: COMPUTING: GENERAL, COMPUTING & INFORMATION TECHNOLOGY
BISAC: COMPUTERS / General
Pages: 198
Published: 03 Apr 2014
Availability: In Stock

Description
Achieving success through transforming behaviour
High-performing IT organisations know that success is more dependent on transforming behaviour than on the state of their technology. They have learned how to adapt behaviour to meet new challenges as effectively as they would change technology.
Managing change in real-life ITSM projects
Based on the real-life experiences of the author and other ITSM professionals, Catalogs, Services and Portfolios – An ITSM success story is a fictional account of change management surrounding ITSM projects. It tells the story of ITSM practitioner Chris as he learns how to deal with resistance to change and overcome inertia in staff behaviour. Through his experiences, readers encounter the common challenges faced when implementing change in an IT service management context. The 'tips that would have helped Chris' sections are packed with helpful advice for anyone facing similar challenges.
Ideal for newly trained ITIL® practitioners
The narrative style of the book helps readers understand how to manage resistance to change and the lack of empathy that often exists between IT and the business it supports. Presenting a realistic overview of an ITSM implementation, the book is equally suitable for newly qualified ITIL professionals and as an inspiration for team discussions.
The book shows you how to:
Deal with situations where being right doesn't mean success
Survive management pressure as others fail
Build credibility in the face of doubt and mistrust from your peers
Separate good advice from bad
Learn how to successfully manage change in everyday ITSM projects.
Reviews
Table of contents
1: Don't Fall Under the Bus
2: Strange Bedfellows
3: Don't Confuse me with Facts
4: Blind me with Science
5: The Joy of Conflicts
6: Masters of the Universe
7: How Hard Can it Be?
8: Chow Fun
9: Help I Need Something
10: Don't Peek Behind the Curtain
11: Know What you Don't Know
12: A Fool With a Tool is Still a Fool
13: Boiling the Ocean, a Spoonful at a Time
14: Change is Hard
15: No Good Deed Goes Unpunished