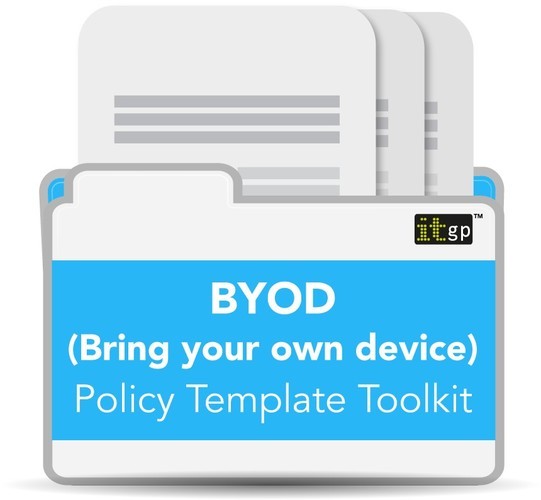 BYOD Policy Template Toolkit
Details
SKU: 4205
Format: Toolkit
ISBN13: 9781849286220
BIC: COMPUTER SECURITY
BISAC: COMPUTERS / Security / General
Published: 01 Mar 2013
Availability: In Stock

Description
BYOD (Bring Your Own Device) promises improved productivity, reduced capital expenditure and better work-life balance for employees. It also promises security and compliance problems for organisations that have inadequate BYOD policies.
A poorly thought out BYOD implementation brings more headaches than benefits. A really good BYOD policy tackles the potential shortfalls – and the many related issues, setting out clearly for staff what is and isn't allowed and, combined with a comprehensive Acceptable Use Agreement, your BYOD policy will help determine how many of the benefits of BYOD you actually achieve.
This BYOD Policy Template kit contains a complete, customisable BYOD policy and a user Acceptable Use Agreement, together with implementation guidance, capable of use either on its own or within any ITGP Documentation Toolkit.
Use this easy-to-customise BYOD policy template, and its supporting Acceptable Use Agreement (included in this kit), to structure, focus and document your own organisational approach to BYOD, and to get informed sign-up from every employee who wants to benefit from your BYOD option. Fully up-to-date for the March 2013 official guidance on data management and security from the UK's Information Commissioner, this BYOD policy toolkit puts affordable best practice at the fingertips of CIOs and Security Managers everywhere.
This toolkit is compatible and can be used within an ISO27001: 2013 Information Security Management System (ISMS) and also reflects the requirements of the Business Continuity Management Standard, ISO22301.
Purchase and download it today.
Table Of Contents
BYOD 
BYOD Policy Template (BYOD DOC 5.2a)
Acceptable Use Policy (BYOD DOC 8.1.3a)
User Agreement (BYOD DOC 9.2.1b)
Physical Security (BYOD DOC 11.1.2a)
Approved Devices (BYOD REC 6.2a)
Unapproved Devices (BYOD REC 6.2b)
Roles and Responsibilities Matrix
BYOD Document References vs ISO 27001:2013 ISMS Documentation Toolkit 
Copyright Licence
BYOD Guidelines
Reviews