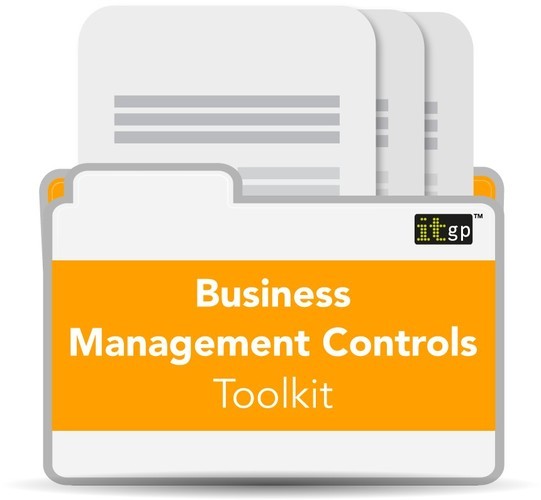 Business Management Controls Toolkit
Details
SKU: 4159
Format: Toolkit
ISBN13: 9781849286213
BIC: BUSINESS & MANAGEMENT
BISAC: BUSINESS & ECONOMICS / Leadership
Published: 18 Dec 2012
Availability: In Stock

Description
Collectively organisations run more than business management systems to control different aspects of their business. How do we bring these all together in one business management system?
The Business Management Control toolkit is aimed at managers, auditors and professionals who want to understand how the assets, transactions, operations, systems activities and investments of their organisation may be protected, controlled and improved more effectively and more efficiently, this toolkit will demonstrate its unique design to structure and shape the business control practices in your organisation.
It is an extensive documentation that, tailored to your organisation, will prove to be invaluable to your existing practices.
Table Of Contents
Checklists and Questionnaires
BITA CON 2.1 Business Continuity Audit Review Program
EGOV CON 6.16 Business Records Management Checklist
EGOV CON 6.14 Compliance Controls Framework
EGOV CON 6.18 Corporate Fraud Management System Audit Program
EGOV CON 6.15 Corporate Policies and Procedures Checklist
EGOV CON 6.20 Ethics Management Checklist
EGOV CON 6.17 Financial Management System Checklist
EGOV CON 6.19 Internal Audit Function Checklist
EGOV CON 6.22 IT Controls Evaluation Audit Program
EGOV CON 6.21 Soft Controls Evaluation Checklist
STQC CON 1 Strategic Management Process Questionnaire
STQC CON 2 Strategic Plan Checklist
STQC CON 4 Human Resources Questionnaire
STQC PESTLE Template
STQC SWOT Template
STQC CON 3 Strategic Alignment Checklist
EGOV CON 6.13 Corporate Governance and Internal Controls System Audit Program
BITC CON 2.2 IT Backup and Recovery Procedure
EGOV CON 6.7 Organisational Controls Readiness Checklist
EGOV CON 6.6 Red Flags Checklist
Documents
BITC CON 4 IT Continuity Plan
ITST CON 4 IT Strategic Plan Policy Documentation Examples
Job Descriptions
EGOV CON 9 Advisory and Regulatory Third Parties
FINM CON 1.4 Cost Accountant FINM
FINM CON 4 Financial Manager FINM
PROD CON 4.1 Project Cost Accountant
COMP CON 4 Roles and Responsibilities - Compliance Committee
EGOV CON 4 Roles and Responsibilities - Personal Benefits
EGOV CON 10 Stakeholders
FINM CON 1.2 Treasury Manager
SMG-JD 1 Social Media Governance Officer
Management Plans
COMP CON 2 Compliance Action Plan
COMP CON 1 Compliance Program Corporate Rewards Systems Plan
BUSD CON 2 Files, Documents and Records (FDR) Management Action Plan PROD CON 3 Purchasing Action Plan
ITGO CON 5.9 Social Media Governance Management Plan
SOFT CON 19 Soft Control Action Plan
Manuals
EGOV CON 16.2 Business Forms Manual
BMCF CON 2 Business Management Controls Systems Manual
EGOV CON 16 Corporate Policies and Procedures Manual
Corporate Staff Policies and Procedures Manual
FINM CON 2 Financial Policies and Procedures Manual
PROD CON 1 Production Operations Policies and Procedures Manual
Performance Frameworks
BSC - Performance Framework
GRI - Performance Frameworks
MAF - Performance Frameworks
Performance Measures and Compliance Indicators
BITC CON 8 Business and IT Continuity Management Performance Controls BUSD CON 7 Business Data Management Performance Controls
BUSI CON 7 Business Intelligence and Corporate Espionage Performance Controls
CUST CONTROL PF Customer Sales and Production Management Performance Controls
EMPR CON 5 Enterprise Governance Performance Measures and Compliance Indicators
FINM CON 6 Financial Management Performance Measures and Compliance Indicators
SOFT CON 20 Human Factor Performance Controls
EGOV CON 6.10 Internal Audit Performance Controls
ITPM CONTROL IT Governance Performance Controls
RISK CON 6 Risk and Compliance Performance Measures and Compliance Indicators
MGMT CON 1 Roles and Responsibilities of Participants Performance Controls STRP CON 2 Strategic Management Performance Measure and Compliance Indicators
Policies
COMP CON 5 Business Ethics Policy
BUSI CON 3 Business Intelligence Policy
BMC LSD - Business Management Controls for Laptops and Smart Devices CUST CON 3 Customer Service Policy Information Sensitive Policy
ITAD CON 1 Information Technology Policy
IGOV CON 2 Internet and Email Policy
BITC CON 6 IT Backup and Restore Policy Example
ITSE CON 1 IT Security Policy
INFO POLICY Privacy of Information Policy
PROD CON 7 Quality Management Policy
Procedures
BUSD CON 5.2 Data Quality Improvement Procedure
FINM CON 4.6 Detailed Accounting Procedures
PROD CON 3 Purchasing Procedure
Reviews