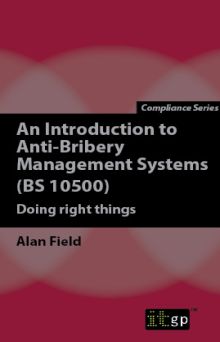 An Introduction to Anti-Bribery Management Systems (BS 10500) - Doing right things
Details
SKU:
Format: Softcover
ISBN13: 9781849287241
BIC: BUSINESS & MANAGEMENT, Corporate governance & responsibilities, COMPUTING: GENERAL
BISAC: BUSINESS & ECONOMICS / Management, BUSINESS & ECONOMICS / Business Law, COMPUTERS / General
Pages: 78
Published: 07 Apr 2015
Availability: In Stock

Description
How to implement an ABMS
An Introduction to Anti-Bribery Management Systems (BS 10500) explains how to implement an ABMS that meets the requirements of BS 10500, from initial gap analysis to due diligence management:
An introduction to BS 10500
An explanation of an ABMS
Management processes within an ABMS
Implementing an ABMS
Risk assessment in due diligence
Whistleblowing and bribery investigations
Internal auditing and corrective action
Certification to BS 10500
It provides helpful guidance on the importance of clearly defining policies; logging gifts and hospitality in auditable records; ensuring a consistent approach across the organisation ; controls for contractors; facilitation payments; charitable and political donations; risk assessment in due diligence; whistle-blowing and bribery investigations; and internal auditing and corrective action.
About the author
Alan Field, MA, LL.B (Hons), PgC, MCQI CQP, MIIRSM, AIEMA, GIFireE, GradIOSH is a Chartered Quality Professional, an IRCA Registered Lead Auditor and member of the Society of Authors.
Alan has particular expertise in auditing and assessing anti-bribery management systems to BS 10500 and public-sector counter-fraud systems to ISO9001. Alan has many years' experience with quality and integrated management systems in the legal, financial, property services and project management sectors in auditing, assessment and gap analysis roles.
Reviews
Table Of Contents
Chapter 1: No Ostriches Allowed: An Introduction to BS 10500
Chapter 2: An ABMS by any other Name
Chapter 3: Management Processes within an ABMS
Chapter 4: Implementing an ABMS: One Key Issue
Chapter 5: Risk Assessment in Due Diligence
Chapter 6: Who do you think they are?
Chapter 7: Blowing the Whistle
Chapter 8: Investigating Bribery
Chapter 9: Internal Auditing and Corrective Action
Chapter 10: Going for Gold