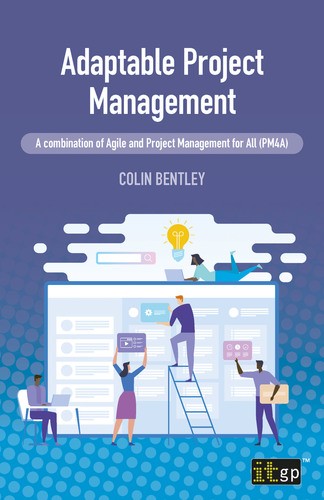 Adaptable Project Management – A combination of Agile and Project Management for All (PM4A)
Details
SKU: 5579
Format: Softcover
ISBN13: 9781787782310
BIC: Project management
BISAC: BUSINESS & ECONOMICS / Project Management
Pages: 236
Published: 25 Aug 2020
Availability: In Stock

Description
Adaptable Project Management – A combination of Agile and Project Management for All (PM4A)
This book provides: 
Guidance on how to coordinate and implement projects successfully with PM4A.
A universal approach to project management – applicable for multiple industries.
A comprehensive method for handling any size of project.
Project management skills continue to be desired by employers, and those with qualifications can often demand a higher salary. Project managers are valued for their flexibility, agility and, increasingly, ability to align with the strategic goals of the business as project management moves from being a specialist discipline in software environments to a general business skill. 
Adaptable Project Management – A combination of Agile and Project Management for All (PM4A) dispels the myth that Agile approaches to project management can only be used for software development. It also recognises that there are both benefits and drawbacks to all project management methodologies. Following detailed analysis of Agile practices and the traditional waterfall approach, author Colin Bentley proposes a new method of project management using principles that focus on PM4A (project management for all).
Adaptable Project Management:
Enables readers to understand how to approach projects where the full requirements are not known at the outset;
Gives advice on how to combine the benefits of Agile and waterfall project management methodologies for successful project implementation;
Helps readers take a thorough approach to risk management; and
Provides a universal approach to project management, making sure that it is accessible for multiple industries and not wedded to software development practices.
Project managers, IT managers, consultants and other senior managers trying to develop a project management approach suitable for their organisation, or those employees expected to take on project management or 'client/product owner' roles without any briefing or other support will find this book extremely valuable. It will also benefit any readers doing a project assurance review for the first time, as well as Agile users who want to know how to fill the gaps in their current method, such as quality and risk management.
Buy this book today for a universal and successful approach to project management!
Reviews
Table of contents
Chapter 1: Introduction
Chapter 2: Agile terminology
Chapter 3: Case study
Chapter 4: Principles
Chapter 5: Organisation
Chapter 6: Planning
Chapter 7: Risk
Chapter 8: Change
Chapter 9: Progress
Chapter 10: Techniques
Chapter 11: Introduction to the processes
Chapter 12: The Propose phase
Chapter 13: The Plan phase
Chapter 14: The Create phase
Chapter 15: The Close phase
Appendix A: Product templates