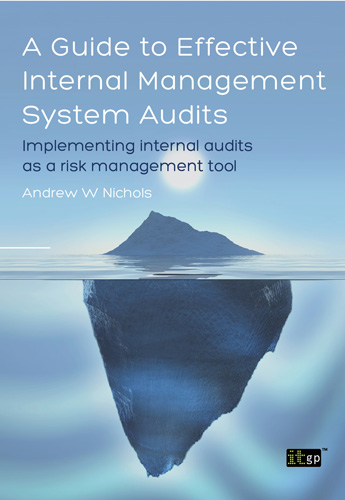 A Guide to Effective Internal Management System Audits - Implementing internal audits as a risk management tool
Details
SKU: 4413
Format: Softcover
ISBN13: 9781849285599
BIC: Quality Assurance (QA) & Total Quality Management (TQM)
BISAC: BUSINESS & ECONOMICS / Total Quality Management, BUSINESS & ECONOMICS / Quality Control
Pages: 130
Published: 26 Jun 2014
Availability: In Stock

Description
Are your internal audits adding value?
Organisations hoping to comply with any of the international standards for management systems (e.g. ISO 9001, ISO 27001) must carry out internal audits. However, the requirements set down by accreditation bodies for auditor courses make little distinction between internal and external audit programs. As a result, many organisations instruct their internal auditors using resources designed for external auditors. Such internal audit programmes often fail to develop beyond simple compliance monitoring, and risk becoming 'box-ticking' exercises, adding little value to the organisation.
Transform your internal audits and improve your systems
A Guide to Effective Internal Management System Audits provides a model for the management and implementation of internal audits that moves beyond simple compliance to ISO requirements and turns the internal audit into a transformational tool that the organisation can use to assist with the management of risk, and implement improvements to management systems.
This book shows you how you can transform your internal auditing process to become a tool for development and continual improvement in your management systems. It will help you: 
learn how to transform your internal audit into a tool for continuous improvement
discover how auditing can help you identify and reduce risks to your business
find out how to shift the audit beyond a box-ticking exercise to an opportunity for innovation
Start adding value to your internal auditing programme with this essential guide.
Reviews
Table of contents
1. Management Systems Audits - a background
2. The Role of ISO 19011
3. The Internal Audit Process
4. Third-Party Certification of Management Systems
5. Internal Auditor Competencies
6. Using the Results of Internal Audits
7, Risk Based Internal Audit Case Studies
Case Study #1
Case Study #2
Annex 1: Comparison of Requirements for Internal Audits
Annex 2: The Football Planning Tool